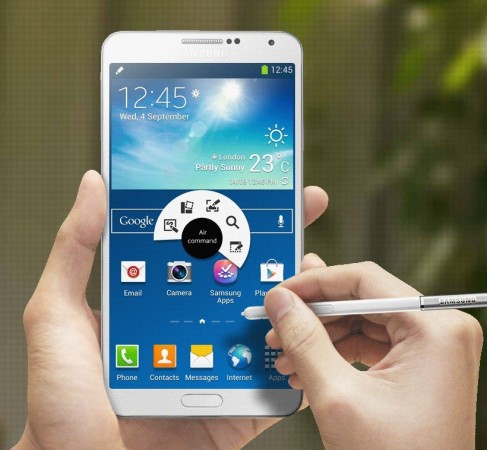 Samsung Galaxy Note 4 has been teased amid speculations on its release date, hinting that the device's launch is not far away. A reliable source has now revealed the carriers where the South Korean electronics giant's next generation phablet would arrive upon release.
The 32GB Samsung SM-N910, which could very well be the much-anticipated Note 4, will come to US carriers AT&T, Sprint and US Cellular, tweeted evleaks - a reliable source. However, it did not mention the expected date of arrival.
Besides AT&T, Samsung SM-N910 also coming to Sprint and US Cellular -- 32GB capacity for all three. Could be Galaxy Note 4 variants.

— @evleaks (@evleaks) May 15, 2014
You can add Verizon and T-Mobile to the list of eventual SM-N910 carriers, along with Bell Canada. Note 4 now seems like a lock. — @evleaks (@evleaks) May 15, 2014
Samsung Electronics has neither revealed the release date nor the specifications of its upcoming phablet yet but several reports suggest it would be unveiled in September, like its predecessor Galaxy Note 3. The Korea Times also reported, citing sources, that the device would be unveiled at the upcoming annual IFA trade fair in Berlin, Germany this September.
Galaxy Note 4 is expected to have a 5.5 inch super Amoled display with a resolution of 2560x1440, giving a ppi of 500+, powered by Quad Core Snapdragon 805 processor that clocks at 2.5GHz and have a 3GB LPDDR3 RAM, according to Samsung4Note.
The website adds that the device will have a 16MP rear camera with ISOCELL technology, 4K video recording and a 2MP front cam with 1080p video recording and S-Pen stylus with updated gestures and air command.
The device is expected to have advanced hardware design - 20 nm 4 GB DDR3 DRAM - and house a 3,600 to 3,800 mAh battery, according to TheGalaxyNote4.
There are conflicting reports on whether the phablet would run on the upcoming Android 4.4.3 OS or Android 4.5 Lollypop, a new OS set to be released by Google later this year. It is also expected to have water and dust resistant body, which was seen in the recently released Galaxy S5.