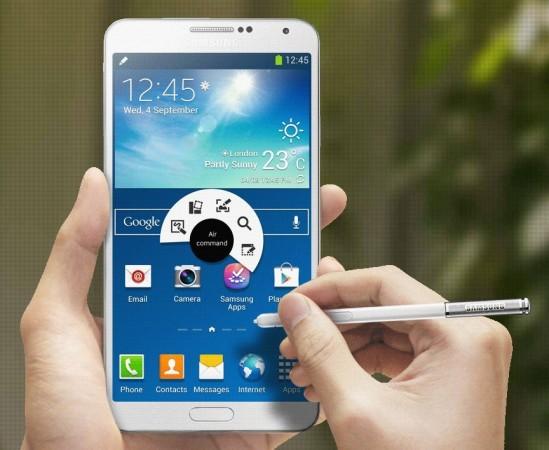 Samsung Electronics has not announced the release date of its upcoming phablet Galaxy Note 4, but reports have it that it would be unveiled in September like its predecessor, Galaxy Note 3. Interestingly, Apple Inc. is also expected to release two models of iPhone 6, one of which may have same screen size of Galaxy Note 4, in the same month.
The South Korean electronics giant has been a leader in big-screen devices, but Apple is venturing into it for the first time with 5.5-inch model of iPhone 6, which is reportedly releasing along with 4.7-inch model this September. Not just releasing at around same time, both the devices from Samsung and Apple may have same display size, if reports have anything to go by.
The arch-rivals will have to eat into each other's revenue if they release their respective products this fall as speculated.
Samsung Galaxy Note 4 is expected to have a 5.5 inch super Amoled display with a resolution of 2560x1440 giving a ppi of 500+, according to Samsung4Note, contradicting earlier report that it would have an AMOLED Ultra HD, 3480x2160 pixel display. It is expected to be powered by Quad Core Snapdragon 805 processor, clocked at 2.5GHz and run on the upcoming Android 4.4.3 KitKat OS or feature Android 4.5 Lollypop, a new OS to be released by Google this year. The device may also have features like water and dust resistant, as seen in Galaxy S5, and have S-Pen stylus with updated gestures and air command.
The next-generation phablet would be unveiled at the the upcoming annual IFA trade fair in Berlin, Germany this September, reported The Korea Times, citing sources.
Apple's upcoming phablet, dubbed as iPhone 6 is also expected to come with a 5.5-inch display with a 2272×1280 (510ppi) resolution and run on iOS 7.2, according to South Korean brokerage KDB Daewoo Securities. Chinese analyst Sun Chang Xu had also hinted that Apple would introduce sensors that can detect pressure, temperature and humidity in its upcoming smartphone.
It was speculated that iPhone 6 would be unveiled at Apple's upcoming Worldwide Developers Conference 2014 (WWDC) in June, but most reports said that it would happen this fall. Several sources, including Reuters and Nikkei have suggested that Apple's new flagship smartphone would be unveiled in September.
(Ed: AJ)