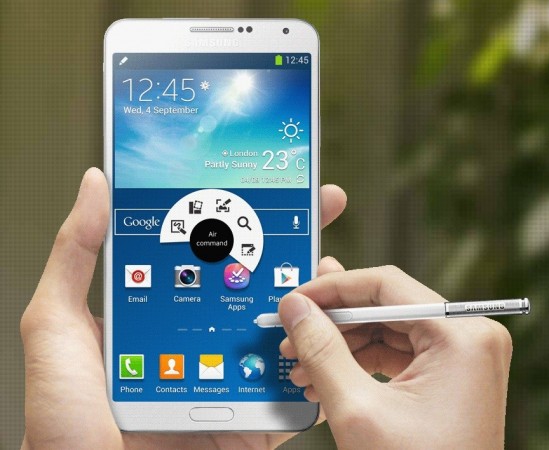 When everyone expecting Samsung's upcoming flagship smartphone dubbed as Galaxy Note 4 to wear a new look as indicated by several media reports, it has now emerged that it may sport a design similar to its predecessor, Galaxy Note 3, which could disappoint fans, who are eagerly waiting for the new device.
GSMArena that has some leaked images of the yet-to-be-released next-generation device claimed that it looks very similar to its predecessor Note 3 from the front, though the back and side have a new look. It went on to say that the device seems to have retained the "plastic back with leather-like texture" with "plastic-like inlay in the side" giving a hint that it could come with a metal frame. S-Pen stylus holster is seen in the side and a microUSB slot at the bottom of the device.
The new report could come as a big disappointment for prospective buyers as it was earlier reported that it could come with a very different look from its predecessor.
The Korea Times reported that the company will release two models of Galaxy Note 4 - one with a curved OLED display and the other with a flat OLED display. Executive Vice President of Samsung's mobile business, Lee Younghee also told the Wall Street Journal that the company is thinking of a flexible display for the next generation device.
Samsung Electronics has announced that the second edition of its launch event, Samsung Unpacked 2014 will be held simultaneously in Berlin, Beijing and New York City on 3 September, a couple of days before the IFA event.
According to a report by Android Authority, a tipster claimed that the company has notified two blackout periods – from 2-5 and 15-20 September – to its employees, giving a strong hint that the much-awaited Galaxy Note 4 might be released on 15 September.
Out of the two upcoming models, one is to be powered by Qualcomm Snapdragon 805, and the other with Exynos 5433 8 Core processor, according to AnTuTu benchmark listings.
It has been reported that the device might run on either Android 4.4.3 KitKat OS or Android Lollypop. But it will most probably feature the former, as Google is expected to launch the new firmware in its flagship smartphone Nexus 6, which may arrive in October. It may come packed with a 3GB LPDDR3 RAM, which is seen in Note 3.
Galaxy Note 4 may sport a 5.7-inch super Amoled display with a 2560x1440 resolution (500+ppi) and iris scanner to improve security. Samsung4Note website and AnTuTu benchmark listings suggested that the Galaxy Note 4 may have a 16MP camera, but G4Games (via ETNews) claimed that camera pixel of the new device might be reduced to 12MP but will feature optical image stabilization.
It is also reported that the device may have a S-Pen Stylus with updated gestures and air command, and a patent application filed by Samsung that is obtained by Galaxy Club has hinted that the S Pen might be powered by an ultrasound technology.