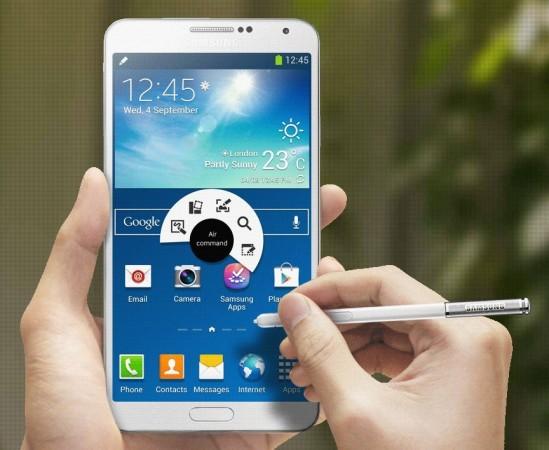 With the release date of Samsung Galaxy Note 4 drawing nearer, its officials have started spilling the beans on the features of the much-awaited device. Now, it has been revealed that the flagship phablet will enhance hardware specifications, far superior than Galaxy S5, with an aim to attract new customers besides keeping the existing users.
"Samsung Note 4 will have far better specifications than the Galaxy S5 smartphone," Korea Times quoted Samsung Electro-Mechanics Chief Financial Officer Kwon Young-noh, as saying. It may be mentioned Samsung Electro supplies Samsung's camera modules.
Galaxy Note 4 will sport a 5.7-inch flat OLED screen with metal frame, the Korean publication reported. It went on to say that curved OLED version of the device will be exhibited.
"The Note 4 will be the first smartphone to incorporate an ultraviolet sensor. The sensor can measure UV radiation and offer index levels to Note 4 users inside the 'S Health' application," said an executive at Samsung's software partner based in Korea told the publication.
The phablet will be powered by Qualcomm processor chips and support fourth-generation long-term evolution (LTE) mobile wireless technologies, and LTE-advanced technology might be made available for users in Korea, he added.
Samsung is expected to release two models of Galaxy Note 4, one powered by Qualcomm Snapdragon 805 and the other by Exynos 5433 8 Core, according to AnTuTu benchmark listings.
It may sport a 5.7-inch super Amoled display with a 2560x1440 resolution (500+ppi) and may run on Android 4.4.3 KitKat OS or Android 4.5 Lollypop. Report has it that it will have S-Pen stylus powered by ultrasound technology with updated gestures and air command, and house 3GB LPDDR3 RAM.
There are conflicting reports on the camera specification of Galaxy Note 4. Samsung4Note website claimed that the device may have a 16MP rear camera with ISOCELL technology, 4K video recording and a 2MP front camera with 1,080p video recording, and AnTuTu benchmark listings also hinted a 16MP rear and a 3.6MP front snapper. However, a report by G4Games (via ETNews) suggested that the device may have a 12MP with an optical image stabilization (OIS).
Traditionally, Samsung announces its Note series, including Galaxy Note 3 at the annual IFA Expo before releasing a few weeks later but ETNews reported that it might be unveiled and released in the beginning of September. Earlier reports suggested that the next-generation device might be unveiled on the eve of IFA Expo, on 3 September.
The South Korean electronics giant is reportedly planning to make a big entry into Chinese market with its next-generation device and ship to the US through major wireless carriers like AT&T, Sprint Nextel, T-Mobile and Verizon Wireless.