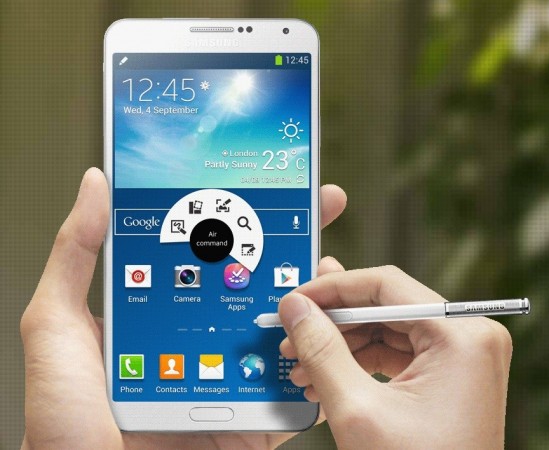 Samsung has not officially announced the release date of Galaxy Note 4, but an official from the company has reportedly revealed that the much-hyped device will be unveiled at the annual IFA trade fair in Berlin, Germany in September this year.
The claim is in sync with earlier reports that Samsung might launch Galaxy Note 4 in September like its predecessor Note 3.
"Samsung is considering holding a launch event of the Note4 at the IFA trade fair. It is in the middle of finalizing specification details for the upcoming phablet," an official from Samsung told The Korea Times by telephone.
An executive told the newspaper that Samsung is planning to satisfy customers with upgraded specifications. An official claimed that Galaxy Note 4 will support faster LTE-A wireless technology, with 3G and LTE for emerging markets, and would be powered by either a 32-bit or a 64-bit processing technology depending on the market situation. He added that the device will come in variants that will support both high-definition and ultra high-definition.
"As Qualcomm just introduced a 64-bit processing technology, Samsung needs time to apply it to the Note 4. For a litmus-test, some variants will have that Qualcomm tech with Samsung's own application processor," an official at one of Samsung's local parts suppliers told the Korean newspaper.
"From developed to emerging markets, Samsung is promoting tablets. We see more business chances in emerging markets. We will diversify our tablet lineup from budget to premium models."
Several reports have claimed that Samsung Galaxy Note 4 will have an AMOLED Ultra HD, 3480 x 2160 pixel display, and sport an advanced handwriting recognition feature - S Pen stylus - to unlock the device and have water and dust resistant feature, which is seen in the recently unveiled Galaxy S5.
The device is expected to be powered by a 64-bit processor and run on Android 4.5 Lollypop, a new OS to be released by Google this year. South Korean media house ETNews reported that Samsung had begun developing a 20MP camera, set to be released in the second half of 2014, hinting that it would be seen in Note 4. TheGalaxyNote4 website also reported that the device will have advanced hardware design - 20 nm 4 GB DDR3 DRAM and a 3,600 to 3,800 mAh battery.
(Edited by Vanilla Sharma)