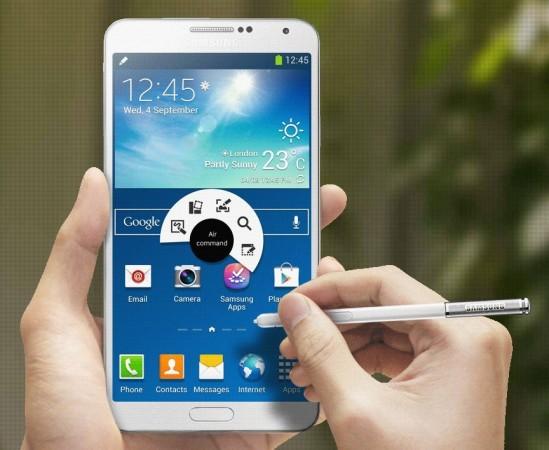 Reports on the release date of Samsung Galaxy Note 4 have turned out right with the South Korean smartphone maker announcing that it will host the second edition of its launch event Samsung Unpacked 2014 on 3 September in Berlin. It is expected to have a few killer features that may help beat 5.5-inch model of iPhone 6, which is expected to hit the stores a few weeks later.
Traditionally, Samsung unveils its Galaxy Note series, including Note 3, at IFA, Berlin but it has decided to launch its upcoming device two days before the event. The much-awaited phablet will be simultaneously unveiled in Beijing and New York City.
There are lots of smartphones from major handset makers like HTC, Sony, Apple and Google in the market, but the biggest threat to Galaxy Note 4 will be Apple's 5.5-inch model of iPhone, as both devices belong to big screen category.
However, Galaxy Note 4 has a few advantage over iPhone 6, as Samsung has already earned a name in big screen handsets, while Apple is venturing into phablet handsets for the first time with the 5.5-inch model. Galaxy Note 4 also has a few killer features that may help beat its rival in the market.
Killer Features of Samsung Galaxy Note 4:
1) Display: Galaxy Note may sport a 5.7-inch super Amoled display with a 2560x1440 (515 ppi pixel density) resolution, while iPhone 6 is expected to have a 5.5-inch with a 2272×1280 (510 515 ppi pixel density) resolution. Samsung's device will have bigger screen as well better picture quality.
2) Memory: Samsung's next-generation device is expected to come packed with a 3GB LPDDR3 RAM, which is the same with its predecessor, Note 3, while iPhone 6 may have 16, 32, 64 and 128 GB variants with 2 GB RAM. Galaxy Note 4 will have microSD card slot unlike its arch rival.
3) Camera: It is not sure whether Galaxy Note 4 will house a 16MP rear and a 3.6MP front snapper with ISOCELL technology and 4K video recording or 12MP camera with an optical image stabilization. iPhone 6 may have an 8MP camera with several upgrades, including flash and Optical Image Stabilization.
4) Design: Galaxy Note 4 may come with a new look. The Korea Times reported that Samsung will release two models of the device - one with a curved OLED display and the other with a flat OLED display. Executive vice president of Samsung's mobile business, Lee Younghee told Wall Street Journal that the company is thinking of a flexible display for the next generation device. However, Apple Inc. is expected not to give much change to its upcoming smartphone, according to reports.
5) Battery: Samsung hasn't revealed that battery of its upcoming device but it is expected to be more powerful than even the Li-Ion 3200 mAh battery seen in Note 3. However, iPhone 6 5.5-inch model may house a 2,500 mAh battery, according to Forbes (via Mobile.it168).
Besides features mentioned, Galaxy Note 4 may have S-Pen stylus with updated gestures and air command, and powered by ultrasound technology. Samsung is also expected to introduce iris scanner in the new device.
According to AnTuTu benchmark listings, the South Korean smartphone maker will release two models of Galaxy Note 4, one to be powered by Qualcomm Snapdragon 805 and the other by Exynos 5433 8 Core and run on either Android 4.4.3 KitKat OS or Android 4.5 Lollypop.