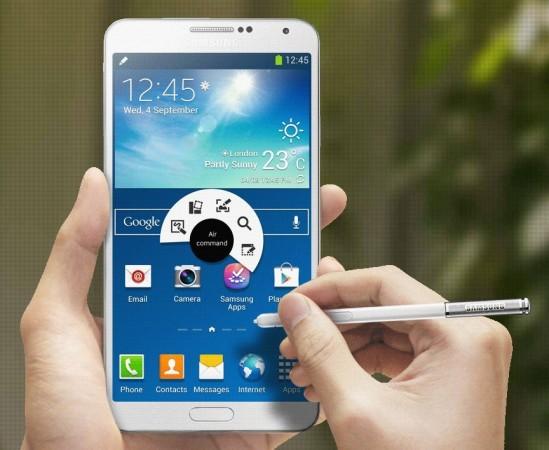 Key hardware specifications of two models of the much-hyped Samsung Galaxy Note 4 - one with Snapdragon chip and the other with Exynos processor - have surfaced, hinting that the release of the device is not far off.
The AnTuTu benchmark revealed key hardware specifications of two versions of Galaxy Note 4 on Friday. The one with model number SM-N910S will be powered by Qualcomm Snapdragon 805 that features Krait 450 (300MHz-2457MHz) CPU and Adreno 420 GPU, while the SM-N910C model will have Samsung Exynos 5433 8 Core processor with ARM Mali-T760 GPU.
However, both the models will have a few similar features like QHD display with 2560x1440 pixels screen resolution, 16MP rear camera and 3.6MP front camera, 3GB RAM, and 32GB of internal storage capacity. Both the versions are also expected to run on the recently released Android 4.4.3 KitKat OS.
It may be recalled that The Korea Times had earlier hinted the arrival of two versions of Galaxy Note 4. A senior executive at a Samsung's top local suppliers told the daily that the South Korean electronics giant is planning to release two models with a curved OLED display and a flat OLED display.
Some of the details listed on AnTuTu benchmark are in sync with earlier reports. It was earlier reported that the new device would be powered by Quad Core Snapdragon 805 processor and run on either Android 4.4.3 KitKat OS or Android 4.5 Lollypop, which is expected to be released later this year. Several reports suggested that the device would sport a 5.7-inch super Amoled display with a resolution of 2560x1440 giving 500+ppi, and have 3GB LPDDR3 RAM.
The next-generation device is expected to have a 16MP rear camera with ISOCELL technology and 4K video recording, a 2MP front cam with 1080p video recording, and S-Pen stylus with updated gestures and air command, according to Samsung4Note website. It is also reported that the device will have a flexible display.
Samsung Galaxy Note 4 Release Date
Samsung Electronics is tight-lipped on the release date of its upcoming device, dubbed as Galaxy Note 4 but several reports have suggested that it would see the light of the day in September. Android Geeks reported quoting an insider that the device would be unveiled on 3 September this year and the invitation to the Unpacked event would be sent out in mid-August. The Korea Times has also reported that the device would be unveiled at the the upcoming annual IFA trade fair in Berlin, Germany to be held between 5-10 September.
The South Korean electronics giant is also expected to release its next generation, Samsung Gear 2 along with Galaxy Note 4 so that it would be sold in a bundle package.