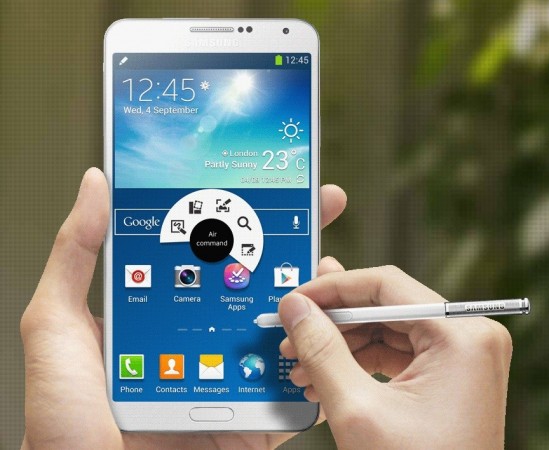 Speculations on the release date and features of Samsung Galaxy Note 4 have gained momentum over the last few weeks after the launch of Galaxy S5. Now, a concept image of the phablet has suggested some interesting specifications of the device.
Samsung Galaxy Note 4 has feels very different from its predecessors with a rectangular, ultra-thin form and aluminum body with finger scanner embedded on home button, according to Simion Popa's concept image published by Concept Phones website.
The device features a quad HD AMOLED display with a 5.7 inch diagonal, a 21.5MP main camera with F/1.8 aperture, LED flash and BSI and 8MP front camera, UI different from TouchWiz and Bang & Olufsen speakers, according to the concept image.
Earlier reports had suggested that Samsung Galaxy Note 4 would have an AMOLED Ultra HD, 3480 x 2160 pixel display and sport an advanced handwriting recognition feature - S Pen stylus. It is expected to be powered by a 64-bit processor, run on Android 4.5 Lollypop, a new OS to be released by Google this year and have water and dust resistant feature. TheGalaxyNote4 website also reported that the device will have advanced hardware design - 20 nm 4 GB DDR3 DRAM and a 3,600 to 3,800 mAh battery.
The much-awaited device is reportedly releasing in September like its predecessor Note 3. The Korea Times also reported citing sources that it would be unveiled at the the upcoming annual IFA trade fair in Berlin, Germany this September.
"Samsung is considering holding a launch event of the Note4 at the IFA trade fair. It is in the middle of finalizing specification details for the upcoming phablet," an official from Samsung told The Korea Times by telephone.
A source told the newspaper that Galaxy Note 4 would come in variants that will support both high-definition and ultra high-definition. It is expected to support faster LTE-A wireless technology, with 3G and LTE for emerging markets and would be powered by either a 32-bit or a 64-bit processing technology depending on the market situation.
Image credit: Screenshot/Samsung official
(Ed: AJ)