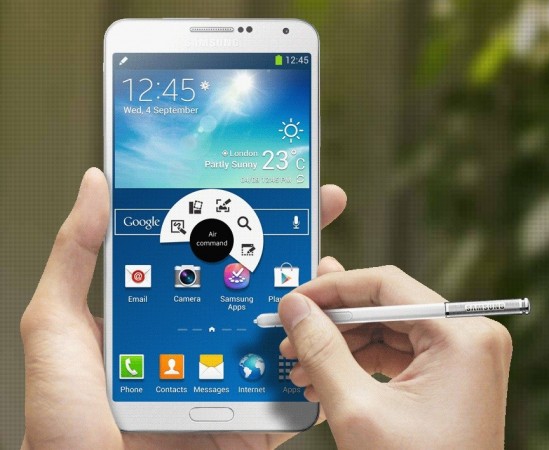 Amid speculations on the release date of Samsung Galaxy Note 4, a report has emerged that the South Korean electronics giant would launch its next-generation smartwatch, Galaxy Gear 3 along with the upcoming device from Note series in the second half of this year.
Samsung Galaxy Note 4 is expected to be unveiled in September and Galaxy Gear 3 smartwatch is expected to come along with it, according to a report by Korea Herald.
"Samsung is working on the next generation of the Samsung Gear 2, and it will be sold in a bundle package with the upcoming Galaxy Note 4," a source told the South Korean daily.
The report of Galaxy Note 4 and Galaxy Gear 3 releasing at the same event sounds realistic, as Galaxy Note 3 was unveiled along with Galaxy Gear at the IFA 2013 in 2013. Gear 2 and smartband Gear Fit were the other products that have hit the stores.
Meanwhile, a source told Korea Herald that Samsung is releasing an SIM-installed product called Gear Solo.
"Samsung is trying to shorten the release cycle since other rivals, including Apple and LG Electronics, are expected to roll out their own smartwatches," Nam Dae-jong, an analyst from Hana Daetoo Securities, told the daily.
The South Korean electronics giant is tight-lipped on the release of its upcoming phablet, Galaxy Note 4 but several reports have claimed that it would arrive in the second half of the year. An insider reportedly told Android Geeks that the device would be unveiled on 3 September this year and the invitation to the Unpacked event would be sent out in mid-August. The Korea Times had earlier reported citing sources that the device would be unveiled at the the upcoming annual IFA trade fair in Berlin, Germany this September.
Galaxy Note 4 is expected to sport a 5.7-inch super Amoled display with a resolution of 2560 x 1440 giving a ppi of 500+, powered by Quad Core Snapdragon 805 processor that clock at 2.5GHz and have 3GB LPDDR3 RAM. Tech Radar reported that Lee Younghee, executive vice president of Samsung's mobile business has confirmed to the Wall Street Journal that the company is thinking of a flexible display for its upcoming Galaxy Note device.
The device will have a 16MP rear camera with ISOCELL technology, 4K video recording and a 2MP front camera with 1080p video recording and S-Pen stylus with updated gestures and air command, according to Samsung4Note website. It is also reported that the device may run on the upcoming Android 4.4.3 OS or Android 4.5 Lollypop, which is expected to be released later this year.
Samsung has not revealed any information on its next product from Note series and is unlikely to do so till it is officially unveiled but the device is expected to have several upgrades over its predecessor, Note 3.