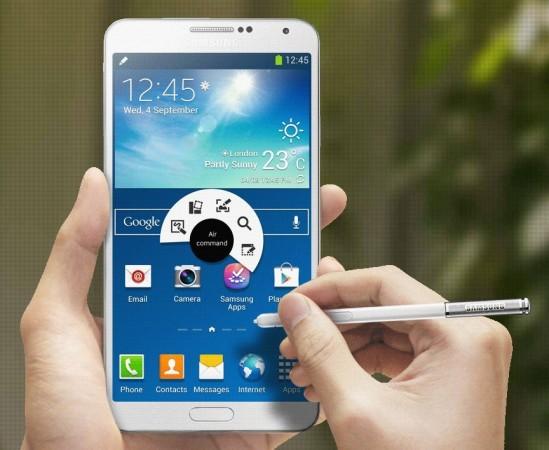 It seems Samsung Electronics, known for making big-screen smartphones, will not increase the size of its next-generation phablet, dubbed Samsung Galaxy Note 4. The flagship smartphone is expected to have the same screen size as its predecessor Galaxy Note 3 when it releases in the later half of this year.
Galaxy Note 3, which was released in September 2013, sports a 5.7-inch screen, and its successor may also have the same screen size, according to a report by GSM Arena. However, the site added that Galaxy Note 4 may have a QHD 1,440 x 2,560 resolution (515 ppi), as compared to its predecessor's Super AMOLED capacitive touchscreen with 1080 x 1920 pixels (386 ppi).
The data table given out by GSM Arena may surprise many, as Samsung has been following the tradition of increasing the screen size of its Note series devices by 0.2 inches - be it Note 2 or Note 3. Hence, going by the trend, Note 4 was expected to sport a 5.9-inch screen.
However, gadget lovers may not complain despite the screen size, as the new flagship phablet may have a screen with a higher resolution. Going by reports, the image quality of Galaxy Note 4 will be higher with a 515 ppi pixel density, compared to Note 3's 386 ppi pixel density.
Galaxy Note 4 is expected to be released in the later half of the year. Android Geeks has reported, citing an insider, that the device would be unveiled on 3 September, with the invitation to the Unpacked event expected to be sent out in mid-August.
The Korea Times had earlier reported, citing sources, that the Galaxy Note 4 would be unveiled at the the upcoming annual IFA trade fair in Berlin, Germany this September.
As for the features of the device, Samsung4Note reported that it would sport a 5.5 inch super Amoled display with a resolution of 2560x1440 giving a ppi of 500+, powered by Quad Core Snapdragon 805 processor that clock 2.5GHz, run on Android 4.4.3 KitKat OS and have a 3GB LPDDR3 RAM.
The report added that the device would have a 16MP rear camera with ISOCELL technology, 4K video recording, a 2MP front camera, and have features like dust and water resistant, and S-Pen stylus with updated gestures and air command.
Meanwhile, there were also reports that the much-awaited device would be powered by a Snapdragon 801 chipset, run on Google's yet-to-be released OS Android 4.5 Lollypop and come with a 20.1MP camera. It is also expected to come with a bendable display and pack a 3,600 to 3,800 mAh battery.
Executive vice president of Samsung's mobile business, Lee Younghee, had earlier told the Wall Street Journal that the company was considering a flexible display for its upcoming Galaxy Note device, according to a report by Tech Radar.