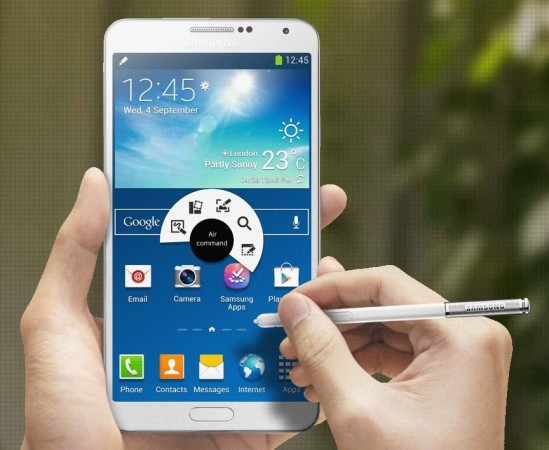 The Samsung Electronics' Note series has been a huge hit among the gadget lovers, and the hype on Galaxy Note 4 started just after the release of Note 3 last year. The release date of the upcoming flagship device is still a few weeks away, but every detail of the phablet, including its features have been revealed by the media.
According to reports that have appeared so far, Samsung Galaxy Note 4 is expected to have several feature upgrades over its predecessor, Galaxy Note 3.
Processor: Galaxy Note 3 has Qualcomm Snapdragon 800 processor while its successor, Galaxy Note 4 is expected to be powered by Quad Core Snapdragon 805 processor that clocks 2.5GHz. Samsung may release two versions of Galaxy Note 4, one to be powered by Qualcomm Snapdragon 805 and the other by Exynos 5433 8 Core, according to AnTuTu benchmark listings.
Display: Galaxy Note 4 may sport a 5.7-inch super Amoled display, which is seen in its predecessor. However, with a 2560x1440 resolution (500+ppi), its picture quality will be way better than that of Note 3, which has 1080x1920 pixels (386 ppi pixel density).
Design: If there is one boring aspect of Samsung's Note series, it has to be its design as all the devices from this product line look almost identical. However, reports suggested that the upcoming device may wear a new look.
The South Korean electronics giant may release two models of the device - one with a curved OLED display and the other with a flat OLED display, according to the Korea Times. Executive vice president of Samsung's mobile business, Lee Younghee told the Wall Street Journal that the company is thinking of a flexible display for the next generation device.
Operating System: Galaxy Note 3 came with Android v4.3 Jelly Bean and is upgradable to v4.4.2 (KitKat), while its successor may run on the recently released Android 4.4.3 KitKat OS. It is also reported that Android 4.5 Lollypop would be seen in the new device, but it is unlikely, as Google may like to introduce the new software in its upcoming smartphone dubbed as Nexus 6.
Camera: A report by G4Games (via ETNews) suggested that Galaxy Note 4's camera pixel could be reduced from 13MP seen in its predecessor to 12MP with an optical image stabilization (OIS), but it is very unlikely as Samsung has the tradition of increasing the camera pixel in its new devices. Samsung4Note website had earlier reported that the next-generation device might have a 16MP rear camera with ISOCELL technology, 4K video recording and a 2MP front camera with 1,080p video recording. AnTuTu benchmark listings also hinted a 16MP rear and a 3.6MP front snapper for the new phablet.
S-Pen Stylus: Galaxy Note 3 has S-Pen stylus feature, but the one in its successor may have updated gestures and air command. A patent application filed by Samsung obtained by Galaxy Club has also hinted that the S Pen might be powered by ultrasound technology.
Several reports have suggested that Samsung might finally introduce retina scanner in its Galaxy Note 4. The Samsung Exynos Twitter account has sparked off speculations that the retina scanner could be seen in the next-generation device by tweeting: "Security can be improved using features unique to us. That's what we envision. What would you use?"
Meanwhile, Galaxy Note 3 and Note 4 devices may have some common features like 3GB LPDDR3 RAM and 5.7-inch display. The expected features of the upcoming phablet that have appeared in the media are not yet confirmed, but they could turn out to be true like in the past.
Samsung has not announced the release date of Galaxy Note 4 but most reports have pointed at a September release. The device will be unveiled on 3 September and the invitation to the Unpacked event would be sent out in mid-August, according to Android Geeks. The Korea Times also claimed that the device would be unveiled at the upcoming annual IFA trade fair in Berlin, Germany to be held between 5-10 September.