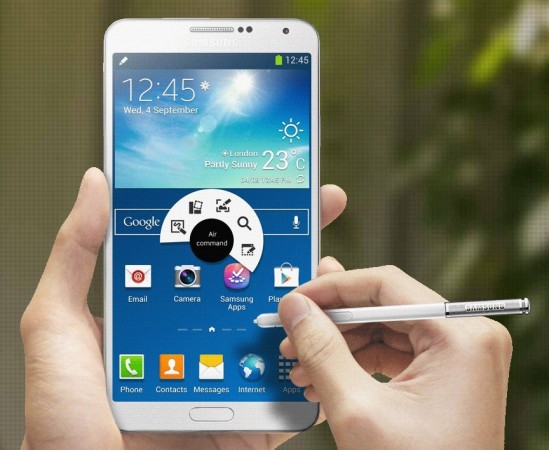 Speculations on the release date of Samsung Galaxy Note 4 have gained momentum, despite the South Korean giant keeping mum on the device. Several reports have suggested that the new device from the Note series would be unveiled in the second half of 2014.
Samsung Galaxy Note 3 was unveiled at the IFA event 2013, which fell in the month of September, and its successor may also be announced at around the same time this year.
Most of the specifications of Samsung Galaxy Note 4 are expected to be similar to the company's recently unveiled new flagship phone Galaxy S5, as was in the case of Note 3 and Galaxy S4.
There was not much differences between Galaxy Note 3 and Galaxy S4, both in terms of features and design, except for the screen size, processor, storage and a few other options. Both devices have Super AMOLED screen with Corning Gorilla Glass 3 protection, same operating system, camera and several other similar features.
Samsung Galaxy Note 4 is also expected to have features similar to that of Galaxy S5, though the South Korean electronics giant has not even uttered a word on it. Rumor has it that the Note 4 will have features like water and dust resistant body and fingerprint sensor which are seen in the recently unveiled smartphone.
The biggest difference between Galaxy Note 4 and Galaxy S5 will be the display, processor, RAM and camera.
The new flagship smartphone sports a 5.1-inch Super AMOLED display with full HD (1920x1080p) resolution, powered by 2.5GHz Qualcomm Snapdragon 801 series quad-core CPU and runs on Android v4.4.2 KitKat OS. It has 993MHz 2GB DDR3 RAM, 16.0-megapixel camera and 2800 mAh battery with Ultra Power Saving Mode.
Galaxy Note 4, on the other hand, is expected to sport an AMOLED Ultra HD, 3480x2160 pixel display, powered by a 64-bit processor and run on Android 4.5 Lollypop, a new OS to be released by Google this year. It is expected to come with 4 GB DDR3 DRAM and 3,600 to 3,800 mAh battery, according to TheGalaxyNote4 website. It may also come with a 20MP camera, if we are to go by the latest reports.
(Edited by Vishnuprasad S Pillai)