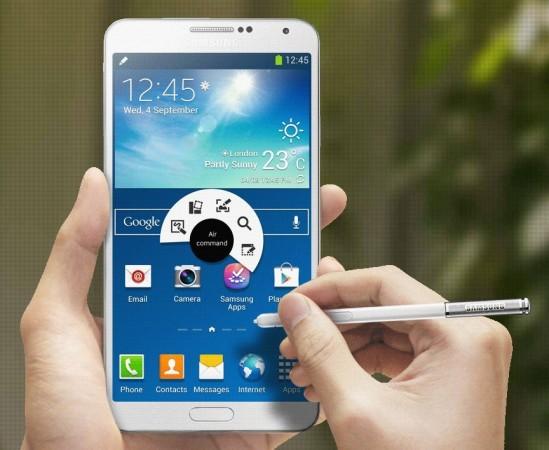 Amid speculations on the release date of Samsung Galaxy Note 4, a new report has emerged that the phablet will sport a curved OLED display and would be launched along with a few other devices.
The South Korean electronics giant is planning to shift focus to creation of a new eco-system in smart home solutions by releasing several advanced smart gadgets along with its much-awaited device dubbed as Galaxy Note 4, according to a report by The Korea Times.
"Samsung plans to show the global technology industry that it is transforming itself into a solution provider from a hardware supplier," a senior executive at a Samsung's top local suppliers told the daily, added that Samsung CEO Yoon Boo-keun is focusing on smart home products.
"Samsung will unveil the Galaxy Note 4 phablet, UHD OLED TVs, a Google Glass rival, and home appliances at the upcoming IFA," added the executive. He went on to say that two models of Galaxy Note 4 - a curved OLED display and a flat OLED display – will be released to cater to the demands of the masses.
Samsung Electronics is reportedly setting up an exhibition venue measuring 6,000-square-meter at Messe Berlin announced Galaxy Note 4 and other devices.
Samsung Galaxy Note 4 Release Date
Samsung has not officially announced the release date of its upcoming product – Galaxy Note 4 – but most reports point at a September release. Android Geeks reported quoting an insider that the device would be unveiled on 3 September this year and the invitation to the Unpacked event would be sent out in mid-August.
According to The Korea Times, the device would be unveiled at the the upcoming annual IFA trade fair in Berlin, Germany to be held between 5-10 September. Galaxy Gear 3 smartwatch is also expected to be released along with Galaxy Note 4.
"Samsung is working on the next generation of the Samsung Gear 2, and it will be sold in a bundle package with the upcoming Galaxy Note 4," a source told the South Korean daily Korea Herald.
Expected Features of Galaxy Note 4
The Galaxy Note 4 may sport a 5.7-inch super Amoled display and have 3GB LPDDR3 RAM, which are spotted on Note 3 too. The display will have a resolution of 2560x1440 giving a ppi of 500+ as compared to its predecessor's 1080x1920 pixels (386 ppi pixel density). The device is expected to be powered by Quad Core Snapdragon 805 processor that clock at 2.5GHz and report also has it that it will have a flexible display.
According to Samsung4Note website, the device will have a 16MP rear camera with ISOCELL technology, 4K video recording and a 2MP front cam with 1080p video recording and S-Pen stylus with updated gestures and air command. It is also reported that the device may run on latest Android 4.4.3 KitKat OS or Android 4.5 Lollypop, which is expected to be released later this year.