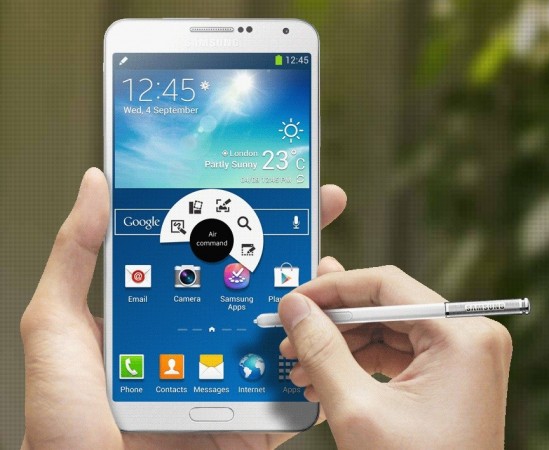 Gadget lovers planning to buy a new phablet, will have a tough time choosing between the upcoming most-talked about devices – Samsung Galaxy Note 4 and Apple iPhone 6 5.5-inch model, which will be launched around the same time. Both the handset giants have not announced the release dates, but may launch them just a few days apart.
Samsung will unveil its Galaxy Note 4 on 3 September before releasing it mid-month. Apple Inc. is also expected to unwrap its iPhone 6 on it media event scheduled on 9 September and start shipping a few days later. So, the arch-rivals are very likely to eat into each other's revenues.
However, it looks like Galaxy Note 4 has an upper hand over its rival iPhone 6 5.5-inch model if one is to go by the reports that have appeared till date.
Here are five reasons why Samsung Galaxy Note 4 should beat iPhone 6.
Popularity: There is a lot of excitement around iPhone 6 bigger variant, as it is the brand's first big screen handset. The company has been sticking to their theory that a mobile handset should comfortably fit in one's hands, until it decided to break the trend this time because of the tremendous demand for bigger screen.
On the other hand, big screen device has been Samsung's playground for years now. In fact, it popularized big screen handsets with its Note series. The response towards its Note series has been great and many of its users will be looking forward to the upcoming Galaxy Note 4. There is possibility of prospective buyers going for the already tested product than a debutant.
Screen Size: Apple's move from 4-inch to 5.5-inch screen is a big leap considering its stand in the past, and going by the reports, it may have a 2272×1280 (510ppi) resolution. Samsung's new device may sport the same screen size of 5.7-inch seen in Note 3, which is still larger than than its rival's. It may also give better display with 5.7-inch 2560 x 1440 (515 ppi pixels density). Gadget lovers, who are craving for bigger display, may choose Note 4 over iPhone 6.
Memory: One of the biggest disadvantages of iPhone device is its memory and non availability of SD card slot. The upcoming iPhone 6 may come with 32/64/128 GB internal memory and 1GB RAM, without SD card facility. However, Samsung Galaxy Note 4 may come with 16/32/64 GB internal memory and 4GB RAM and microSD up to 128GB. It will at least come packed with 3GB RAM, which is seen in its predecessor Note 3. So, gadget lovers, who need memory, may choose Samsung's product.
Camera: Galaxy Note 4 may house a camera with 16 MP and 3456x4608 pixels with features including optical image stabilisation, autofocus and duel-LED flash. However, iPhone 6 may have an 8MP camera with flash and Optical Image Stabilization. So, prospective buyers, who want more pixels, will prefer Samsung's device.
Battery: One of the features that most iPhone users complain about is its short battery life. Forbes (via Mobile.it168) reported that the 5.5-inch model might have a 2,500 mAh battery, which is a huge upgrade over iPhone 5s' 1560 mAh but the fact is, bigger screen will need more power. It is still not known on the kind of battery Galaxy Note 4 will have but going by 3200 mAh battery seen in its predecessor, it might come with more powerful one.
However, it is difficult to predict which device will do better business, as it purely depends on the final choice of the buyers. Samsung has loyal users, who are happy with its earlier Note devices, but the hype around iPhone 6 5.5-inch model is great so far.