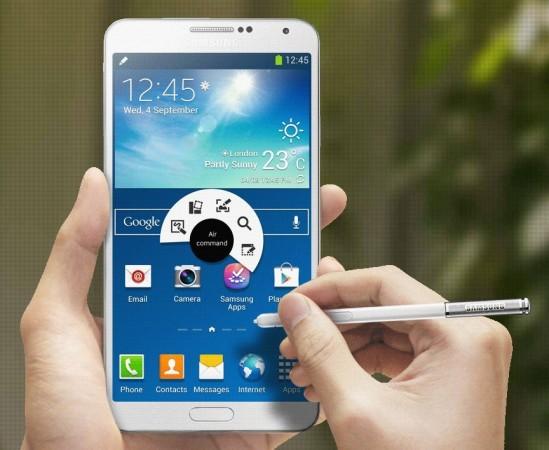 So much has been written on Samsung's upcoming flagship device Galaxy Note 4, though the South Korean electronics giant is yet to announce its arrival. Several reports on the release date and specifications of the device have surfaced of late.
The next-generation device from the Note series is expected to have several upgrades over its predecessor Galaxy Note 3. Besides major feature upgrades, prospective users of the device might also want a few small things, which usually go unnoticed, to be improved.
Here are five features that gadget lovers might want in Samsung Galaxy Note 4.
1) Better Battery Life: Any feature upgrade, say an increase in display resolution, means the device will consume more power. Smartphone makers keep upgrading the battery following complaints from users but it looks like they are hard to please. However, gadget lovers, who have been waiting for the release of Galaxy Note 4, will look forward to having a good battery that will last at least a few hours longer than the one seen in its predecessors.
2) Camera: Samsung keeps raising pixels with every flagship device but does not add any features which will increase the quality of an image. Galaxy Note 4 is also expected to come with a 16MP camera, like the recently released Galaxy S5, but gadget lovers will look for more, like better flash, optical image stabilization and others.
3) RAM: Galaxy Note 3 was packed with 3GB RAM but followers of the Note series may want an upgrade in its successor; may be 4GB.
4) New Operating System: Samsung Electronics lovers will expect the company to introduce a new OS in Galaxy Note 4. It is reported that the device may run on the upcoming Android 4.4.3 OS or Android 4.5 Lollypop, which is expected to be released later this year.
5) Processor: Galaxy Note 3 is powered by Qualcomm Snapdragon 800 (N9005, N9002) and Exynos 5 Octa 5420 (N9000) but its successor Note 4 is expected to have a much better processor. Rumour has it that it will be powered by Quad Core Snapdragon 805 processor but many users may expect Snapdragon 810 64-bit chipset processor.
Samsung is tight-lipped on its upcoming phablet but several reports have claimed that it would arrive in the second half of the year. An insider revealed that Galaxy Note 4 would be unveiled on 3 September, and the invitation to the Unpacked event would be sent out by mid-August, according to Android Geeks.
The Korea Times had earlier reported, citing sources, that the device would be unveiled at the the upcoming annual IFA trade fair in Berlin, Germany this September.
Galaxy Note 4 is expected to sport a 5.7 inch super Amoled display with a resolution of 2560x1440, giving a ppi of 500+, powered by Quad Core Snapdragon 805 processor that clocks 2.5GHz and have 3GB LPDDR3 RAM.
Lee Younghee, executive vice president of Samsung's mobile business, has confirmed to the Wall Street Journal that the company is thinking of a flexible display for its upcoming Galaxy Note device, according to a report by Tech Radar.
It may have a 16MP rear camera with ISOCELL technology, 4K video recording and a 2MP front cam with 1080p video recording and S-Pen stylus with updated gestures and air command, according to Samsung4Note website.