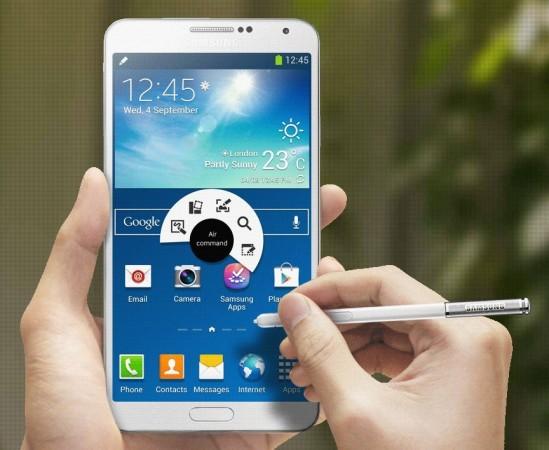 While the leaked specifications of Samsung Galaxy Note 4 are impressive and sure to create excitement among prospective buyers, some fans will still be disappointed with some of the features expected in the device. The next-generation phablet will upset fans even more if it doesn't have some of the speculated features at launch like the Galaxy S5.
Samsung Electronics will unveil the Galaxy Note 4 at its Unpacked event to be held simultaneously in Berlin, Beijing and New York City on 3 September. It has not revealed the release date, but reports suggested it may happen on 15 September.
Most of the key specifications of Galaxy Note 4 have made it to the media and though they have not been confirmed, they may turn out to be true like in the past.
Here are five features of Samsung Galaxy Note 4 that may disappoint its fans when it is launched:
1) Screen Size: While some may argue that big screen size is not handy and uncomfortable, some patrons will still expect Samsung to upgrade it, as the brand has the tradition of increasing screen size of its Note series by .2-inch. However, reports that have surfaced so far suggest that it will sport a 5.7-inch screen, which is seen in its predecessor, Galaxy Note 3. The decision of the handset maker not to change the screen size may leave some fans disappointed.
2) Camera: There are conflicting reports on the camera pixel of Galaxy Note 4. Some reports suggested that the camera of the new device will be upgraded from 13MP seen in Note 3 to 14MP but G4Games (via ETNews) reported that it could be reduced to 12MP with optical image stabilization (OIS) feature. The fact is fans will be disappointed if Samsung happens to reduce the pixel.
3) Design: Samsung hasn't made major change to the design of its Note series despite pre-release rumours that it would opt for new looks. Report by the Korea Times that one variant will have a curved OLED display and the other with a flat OLED display may please the fans. In another report, Executive Vice President of Samsung's mobile business, Lee Younghee told Wall Street Journal that the device might have a flexible display. However, fans will be left disappointed if the upcoming device comes without the new look.
4) Memory: Indonesian retailer Erafone (snapshot obtained by Droid Life) claimed that the device will come in 16/32/64GB variants with 4GB RAM and microSD upto 128GB, contradicting earlier reports that it will come with 3GB RAM, which is seen in Note 3. Fans will now expect the new device to come with 4GB RAM now that report of a possible memory upgrade has surfaced. Interestingly, Erafone deleted the post that reveals the features of the device, casting doubts on its authenticity.
5) Iris Scanner: It was reported that Samsung would introduce retina scanner in its latest Galaxy S5 but it was not seen when the smartphone was launched. Reports have surfaced again that iris scanner will be introduced in Galaxy Note 4, but there is no further information on the same. Sammobile reported "four fingerprint features - Screen Lock, Private Mode with fingerprint authentication, Samsung Account Verification and PayPal Payments – that are seen in Samsung's flagship smartphone Galaxy S5 will be featured in the Galaxy Note 4 too" but there is no mention of iris scanner. But fans will expect the said feature from the phablet now and its absence will disappoint them.
According to reports, Samsung will launch two models of Galaxy Note 4, one with a Qualcomm Snapdragon 805 processor, and the other with Exynos 5433 8 Core, and both the variants may run on Android 4.4.3 KitKat. Galaxy Club claimed citing Samsung's patent application that the S-Pen Stylus, which is expected to come with updated gestures and air command, will be powered by ultrasound technology.