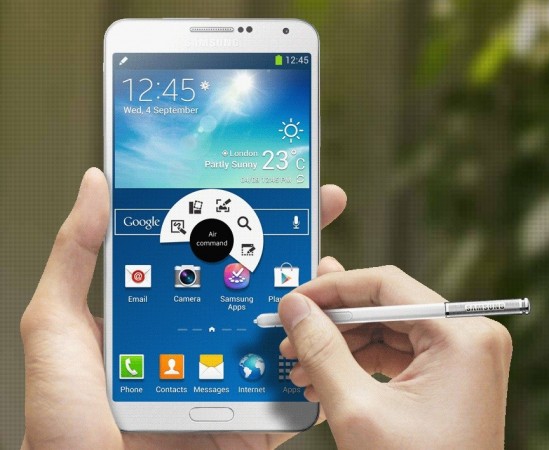 Now that Samsung has finally unveiled its new flagship smartphone Galaxy S5, speculations on the release date of Samsung Galaxy Note 4, the successor of Note 3, have surfaced. Reports have it that the device will be launched in September, though the South Korean company has not made any official announcement yet.
Samsung released the 5.7-inch Full HD Super AMOLED (1920 x 1080) display Galaxy Note 3 back in September, so its successor Note 4 is also expected to be announced around the same time this year, though nothing has been finalized as of now.
Several reports on the features of the next-generation phablet have surfaced over the last few weeks. Here are the five expected features of Galaxy Note 4:
1. Display: It is reported that the Samsung Galaxy Note 4 will sport a 2K screen display. Interestingly, the South Korean company has revealed that it is working on a 4K display but it's not sure if it will be featured in Note 4.
2. Processor: Samsung Galaxy Note 4 is expected to be powered by a 64-bit processor. CNET had earlier reported that Samsung had claimed it would join the 64-bit processor club this year, when it develops an OS to support it.
"Our chip will be ready whenever the operating systems and ecosystem go 64-bit," Kyushik Hong, vice president of marketing for Samsung's system LSI business, told CNET. "We're pretty sure we're not going to be the bottleneck for that."
3. Operating System: Samsung Galaxy Note 3 runs on Android 4.3 (Jelly Bean) but its successor is expected to run on Android 4.5 Lollypop, a new OS to be released by Google this year.
4. Camera: Samsung Galaxy Note 4 is expected to come with a better camera, probably an increase in megapixel. Its predecessor has a 13MP rear camera.
5. Water and Dust Resistant: The fourth generation phablet is expected to have some features seen in Galaxy S5, like water and dust resistant and fingerprint sensor. It is also expected to come with a metallic body.