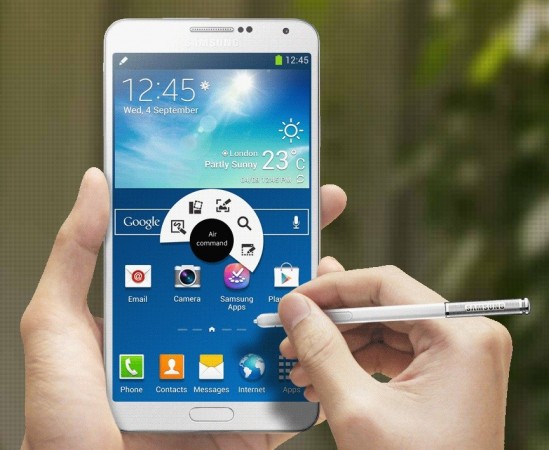 Samsung Electronics may not announce the release date of its upcoming phablet Galaxy Note 4 till a few days before its unpack event but that has not stopped neither the insiders nor the media from speculating about the specifications of the device.
Several conflicting features of Galaxy Note 4 have surfaced, and a new report by a website, called Samsung4Note, hints at a few more features that can be seen in the purported device.
Here are 10 features expected in Samsung Galaxy Note 4:
1. Processor: Galaxy Note 4 may be powered by Quad Core Snapdragon 805 processor, clocked at 2.5GHz, according to Samsung4Note.
2. Display: The device is expected to have a 5.5 inch super Amoled display with a resolution of 2560x1440 giving a ppi of 500+, according to Samsung4Note. However, earlier reports suggested that it would have an AMOLED Ultra HD, 3480x2160 pixel display.
3. Camera: It is expected to have a 16MP rear camera with ISOCELL technology, 4K video recording and a 2MP front cam with 1080p video recording, reported Samsung4Note.
4. Connectivity: LTE Cat 6 Support
5. Battery: 3,600 to 3,800 mAh battery (as reported by TheGalaxyNote4 website)
6. S-Pen stylus with updated gestures and air command, according to Samsung4Note.
7. Hardware: The device is expected to have advanced hardware design - 20 nm 4 GB DDR3 DRAM, according to TheGalaxyNote4. However, Samsung4Note reported that it would have 3GB LPDDR3 RAM.
8: Water and dust resistant.
9. OS: The device may run on Android 4.4.3, according to Samsung4Note. It was earlier reported that the device would run on Android 4.5 Lollypop, a new OS to be released by Google this year.
10. Touchwiz expected to be optimized for Samsung Galaxy Note 4.
The much-awaited phablet is expected to be unveiled in September like its predecessor Note 3. The Korea Times also reported, citing sources, that it would be unveiled at the the upcoming annual IFA trade fair in Berlin, Germany this September.
"Samsung is considering holding a launch event of the Note4 at the IFA trade fair. It is in the middle of finalizing specification details for the upcoming phablet," an official from Samsung told The Korea Times by telephone.
Photo credit: Screenshot/ Samsung official (Ed: VP)