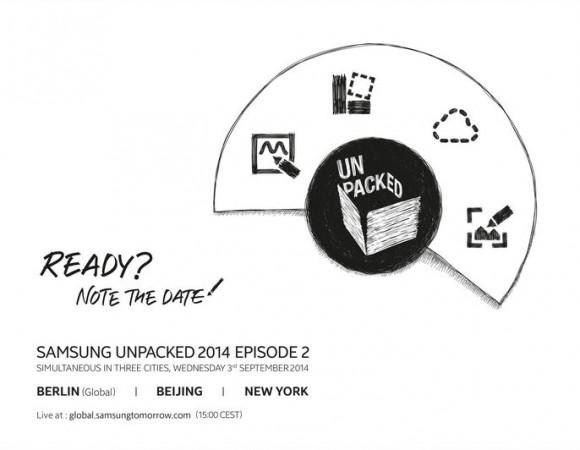 The much-anticipated phablet of the year, Galaxy Note 4 is all set to make a grand debut in a few hours time at the company's 'Samsung Unpacked 2014 Episode 2' in Berlin, Germany on 3 September .
Samsung fans residing in other corners of the world need not feel disheartened to miss the unveiling program as South Korean firm will be streaming live webcast of the Galaxy Note 4 launch event online.
The 'Samsung Unpacked 2014 Episode 2' event is scheduled take place at Berlin 15:00 CEST local time (09:00 AM EDT/18:30 PM IST) 3 September. The event coverage will be streamed live on the company's official blog Samsung Tomorrow (Click Here) as well as the official YouTube channel (Click Here).
You can also view the event in this embedded video link as well:
Set your clocks for Samsung Galaxy Note 4 launch live coverage:
Ottawa: 09:00 EDT, 3 September
New York City: 09:00 EDT, 3 September
Los Angeles: 06:00 PDT, 3 September
London: 14:00 BST, 3 September
Paris: 15:00 CEST, 3 September
Berlin: 15:00 CEST, 3 September
Johannesburg: 15:00 SAST, 3 September
Abu Dhabi: 17:00 GST, 3 September
Moscow: 17:00 MSK, 3 September
Islamabad: 18:00 PKT, 3 September
New Delhi: 18:30 IST, 3 September
Beijing: 21:00 CST, 3 September
Hong Kong: 21:00 HKT, 3 September
Singapore: 21:00 SGT, 3 September
Seoul: 22:00 KST, 3 September
Canberra: 23:00 AEST, 3 September
[Note: New York City and Beijing timing given in the above list is synchronised with Berlin event schedule.]
Highlight of the Samsung Unpacked 2014 Episode 2 Event:
Wednesday's event is all but certain to witness the launch of fourth generation Galaxy Note series phablet, but besides the flagship smartphone, company is also slated to showcase - S Gear, a standalone calling smartwatch with SIM slot (specifications officially announced; read full report, here).
Going by the series of teaser videos, Samsung's Unpacked 2014 Episode 2 will be a glitzy event, just like the one the company pulled off some glamorous theatrics (some called it a bit sexist though), at Galaxy S4 unveiling event last year.
In its bit to incite the excitement among the fans, Samsung has released a new flashy teaser video giving some glimpse on what's in store in the upcoming flagship phablet.
Samsung Galaxy Note 4 Key Specifications Details: What we Know so Far
The upcoming Galaxy Note 4 is said to be game changer for Samsung as it faces tough competitions from both sides - from below, emerging Chinese firms like Huawei and Xiaomi are eating up in to the budget and mid-range segment market, while the arch-rival Apple with its speculated big-screen iPhone 6 (4.7-inch and 5.5-inch) series smartphones are expected to pose a serious threat in the premium smartphone sector.
Hence, Galaxy Note 4 has to boast some impressive features to stand apart from the competition, or else it will be very hard to turn things around for Samsung for rest the second half the year, which has so far seen decline in profits margins in the first half.
Samsung's forthcoming flagship phablet is said to come in different design compared to its predecessors. If rumours are to be believed, it is said to boast flexible display with QHD (aka 2K) screen with a staggering pixel density of 515 ppi (pixels per inch).
Under the hood it is believed to come packed with Qualcomm 805 805 series quad-core/Exynos 5443 Octa-core CPU (depending on the market), 4GB RAM, 16.0-megapixel camera and a 3.7-megapixel front-camera.
Going by the recent teaser video of Samsung, Galaxy Note 4 main USP seems to be the S-Pen. Word on the street is that Samsung has reportedly incorporated ultrasound technology in the S Pen stylus.
It is believed Galaxy Note 4 stylus's has the ability to emit ultrasonic waves and phablet's four sensors (placed on both the sides) picks them to perform touch-less gesture functions, reported Galaxy Club citing the Samsung's leaked patent papers.
The ultrasound technology will also negate the need for a digitiser on the screen, resulting in lower costs and a thinner display assembly for the Galaxy Note 4, said SamMobile
[Also read: Samsung Galaxy Note 4 Final Wrap-up: Expected Key Specifications, Price, Release Date Details]
Check out this video clip which depicts the importance of pen, which has evolved through the long history of human civilization and with the new S-Pen, it is going get even better.
Samsung Galaxy Note 4 Release Date Details: What we Know so Far
As for as released date of Galaxy Note 4 is considered, Samsung phablet is slated to hit stores as early as mid- September.
According to the leaked internal memo (now available with Android Authority), Samsung has reportedly asked employees (retail sector) to not to take leave between 3 and 5 September, which actually coincides with the UNPACKED 2014 Episode 2 event and between 15 – 28 September, hinting the device might hit the stores (in select markets) third week of this month.
Samsung S Gear Key Specifications Details:
Samsung's new S Gear wristwatch flaunts a big 2.0-inch super AMOLED screen and run on the company's proprietary wearable platform Tizen.
One striking feature of the S Gear is that it can act as a stand-alone calling device with being connected to smartphone. It comes with SIM slot compatible with 2G/3G network and it can also take calls from the companion smartphone via Bluetooth with the ability to switch between two networks.
Samsung S Gear Release Date Details:
The company has confirmed that S Gear will hit stores in select global markets in October. Price is said to be revealed during local launch events.
Expected specifications of Samsung Galaxy Note 4 include:
| | |
| --- | --- |
| Model | Samsung Galaxy Note 4 |
| Display | 5.7-inch or more with QHD (aka 2K) 2560x1440p resolutions |
| OS | Latest Android OS |
| Processor | 2.7GHz Qualcomm's Snapdragon 805 series quad-core processor with Adreno 420 graphics engine/Exynos 5443 Octa-core CPU chipset (yet-to-be-announced) paired with the Intel's XMM7260 Cat. 6 modem |
| RAM | Expected 3G/4GB |
| Storage capacity | Either 16GB or 32GB with options for expansion via microSD card. |
| Camera | Main: Sony's proprietary IMX240 (yet-to-be announced) 16.0-megapixel camera with OIS (Optical Image Stabilizer) feature, 4K video recording abilityFront: 3.7-megapixel camera |
| Network | 3G/4G-LTE (cat.6) |
| Add-ons | Water-proof certifications, finger print sensor, heart-rate sensor, ultra-violet sensor, ultra-sound enabled S Pen Stylus |
| Price | IDR 9,499,000 (around 811/€615/₹49,100) |