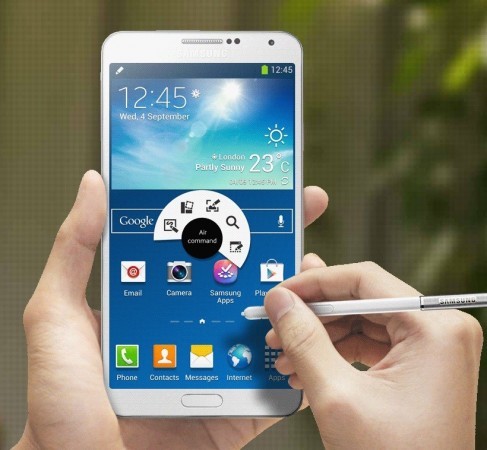 Samsung Electronics is tight-lipped on its purported flagship device, dubbed as Galaxy Note 4 despite so much attention it has drawn after the release of Galaxy S5, and this silence has led to even more speculations. Now, a new report has emerged that the South Korean electronics giant is testing some features for the upcoming device.
A few features like "Swipe to launch Motion Launcher", "Aqua Capture", "Multi Network for Booster" and "Smart Fingerprint" are currently being tested for the Galaxy Note 4, according to an exclusive report by SamMobile citing an insider. It added that these features are tested on the recently released Galaxy S5 with Android 4.4.3 as a base.
"Swipe to launch Motion Launcher" feature sounds like that of HTC One M8's "Motion Launch" that enable users to operate several things like launching of camera even when the display is in off mode, according to SamMobile.
"Aqua Capture" could be similar to the "Aqua Mode" seen in Galaxy S4 Active that allows taking photos under water.
"Multi Network for Booster" could be referred to something similar to "Download Booster" in the Galaxy S5, and "Smart Fingerprint" could be referred to multiple functions that can be done by swiping a finger over the fingerprint sensor. Galaxy S5 has a feature that allows users to perform several functions from unlocking the device to making PayPal payments with the use of the fingerprint sensor.
Samsung Galaxy Note 3 is expected to be released in the second half of the year though the smartphone maker has not made any announcement. Android Geeks has reported citing an insider that the device would be unveiled on 3 September this year with the invitation to the Unpacked event expected to be sent out in mid-August. The Korea Times had earlier reported citing sources that the Galaxy Note 4 would be unveiled at the the upcoming annual IFA trade fair in Berlin, Germany this September.
The device may sport a 5.7-inch screen with QHD 1,440 x 2,560 resolution (515 ppi), according to a report by GSM Arena.
As for the features of the device, Samsung4Note website had earlier reported that the device would sport a 5.5 inch super Amoled display with a resolution of 2560x1440 giving a ppi of 500+, powered by Quad Core Snapdragon 805 processor that clock at 2.5GHz, run on Android 4.4.3 KitKat OS and have 3GB LPDDR3 RAM. It added that the device would have a 16MP rear camera with ISOCELL technology, 4K video recording, 2MP front camera, and have features like dust and water resistant, and S-Pen stylus with updated gestures and air command.
Lee Younghee, executive vice president of Samsung's mobile business, had earlier told the Wall Street Journal that the company was thinking of a flexible display for its upcoming Galaxy Note device, according to a report by Tech Radar.