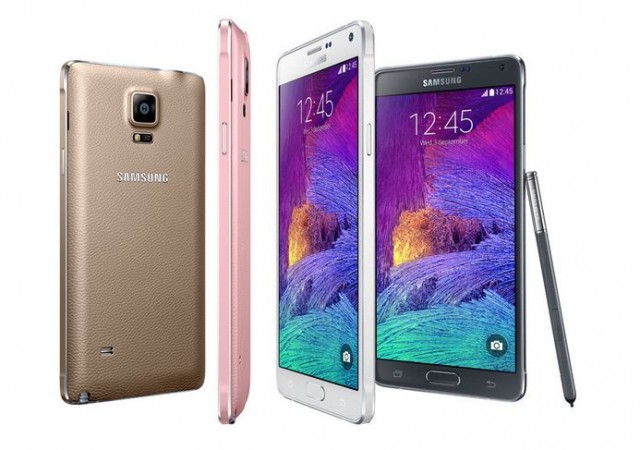 World smartphone leader Samsung announced on Wednesday that the company plans to roll out Galaxy Note 4 in select Asian markets this week.
Samsung has confirmed that Galaxy Note 4 will hit stores initially in home market South Korea on 26 September and later in 140-plus regions by October end.
The report comes just days after Apple announced that iPhone 6 and iPhone 6 Plus sales grossed record 10 million plus in just three days (19, 20 and 21 September) and announced to release them in over 20 regions, including Norway, Sweden, Finland, Denmark, Belgium, Luxembourg, Switzerland, the Netherlands, Ireland, Isle of Man, Austria, Italy, Portugal, Spain, Liechtenstein, Russia, Turkey, Saudi Arabia, Qatar, the United Arab Emirates, Taiwan and New Zealand on 26 September.
Apple iPhone 6 and iPhone 6 Plus will then be made available in 115 countries by the end of the year. They are currently available in the US, the UK, Australia, Canada, France, Germany, Hong Kong, Japan, Puerto Rico and Singapore.
However, Apple Inc has not revealed when the company will release the new iPhones in China, which is the world's biggest smartphone market.
Apparently, the American company was supposed to release iPhone 6 series devices in China on 19 September, but due to delay in Chinese regulatory approval, the smartphone release has been deferred indefinitely.
In its bid to counter the arch-rival, Samsung has reportedly stepped in to release Galaxy Note 4 in China, before iPhone 6 hit stores.
Samsung's early move to China has been attributed to the company's decline in sales profit by cheap smartphones sold by Chinese and Indian brands, reported Associated Press.
[Also Read: Apple iPhone 6 Release Date Delay Pushes Device Price to $3,600 (₹2,19,000) in China]
Samsung has also made arrangements to release Galaxy Alpha and Galaxy Note 4 before iPhone 6 hits Indian store shelves as well. The company is expected to release Galaxy Alpha this week (27 September, full report HERE) and the flagship phablet in October during Diwali holidays. [Full report, HERE]
As far as Apple iPhone 6 India release date is concerned, the device is unlikely to set foot until mid-November. Apple changed iPhone 6 availability details twice after announcing 26 September as the much hyped smartphone's release date for India and in just a few hours, it again changed the date to 17 October.
But again, the following week, the company (on 11 September) pulled down the release date details from its official home page, leaving many wondering whether there will be a delay in launching the smartphone in India. [Full Report, HERE]
Samsung Devices' Specifications Description:
Galaxy Alpha sports 4.7-inch super AMOLED HD (1280x720p) screen and flaunts metal frame around the edge giving a premium finish to the smartphone.
Under the hood, it ships with Android v4.4.4 KitKat OS, Octa-core processor (-1.8GHz quad-core + 1.3GHz quad-core)/ 2.5GHz Snapdragon quad-core CPU (in some select markets), 2GB RAM and 32GB inbuilt memory (not expandable).
Other stipulated features include 12.0-megapixel camera (with LED flash, 4K @ 30 fps video recording ability, HDR, Selective Focus and more), 2.1-megapixel snapper on the front and a 1,860 mAh battery.
And just like the flagship smartphone Galaxy S5, the new metal-clad Samsung phone too boasts of value added features such as finger-print sensors, heart rate monitor, download booster with MIMO (2 x 2) Wi-Fi, ultra-saving mode and private mode.
Only missing feature is the IP67 water-resistant-and-dust-repellant certifications. However, all-in-all, the phone does have enough tricks in its sleeve to match iPhone 6 (4.7-inch).
Samsung Galaxy Note 4 unveiled earlier this month comes with the same 5.7-inch screen size like its predecessor, but its display resolution has gone a couple of notches up this time. It boasts QHD (aka 2K) 2560x1440p resolution display, which is equivalent to 515 plus ppi (Pixels Per Inch).
Inside, it comes packed with company's in-house built Exynos 5433 series Octa-core CPU (1.9GHz quad-core+1.3GHz quad-core +ARM Mali T760 GPU)/ 2.7GHz Snapdragon 805 quad-core processor paired with Adreno 420 graphics engine. It is backed by 3GB RAM, 32GB inbuilt memory (expandable up 64GB) and a 3220 mAh battery.
Apple's New Smartphone Series Descriptions:
On the other hand, Apple's new iPhone 6 series handsets are the biggest upgrade compared to their predecessors in terms of outlook and internal hardware.
Sans the screen specifications, both iPhone 6 and iPhone 6 Plus pack pretty much same internal hardware. They ship with the new iOS v8.0 powered by the 20-nanometer class based second generation 64-bit A8 chipset, which is 25% faster (50% faster graphics too) than the A7 in iPhone 5S. It is aptly supported by second generation and M8 motion co-processor.
On the camera front, it houses the new 8-megapixel iSight camera with 1.5µ pixels, f/2.2 aperture, True-Tone flash, hybrid IR filter, five-element lens, sapphire crystal lens cover and a 1.2-megapixel FaceTime camera with f/2.2 aperture, auto-HDR and 720p HD video recording ability.
One key advantage of Galaxy Note 4 over the iPhone 6 Plus is the feature-rich S-Pen stylus feature, which acts as a handy navigation tool on the big-screen. It boasts of Air Command, Action Memo, Smart Select, Image Clip, Screen Write, S Note, Snap Note and Direct Pen Input feature.
Key Specifications of Samsung Galaxy Note 4, Galaxy Alpha, Apple iPhone 6, iPhone 6 Plus:
Models
Galaxy Note 4
Galaxy Alpha
iPhone 6
iPhone 6 Plus
Display
5.7-inch quad HD (2560x1440p) super AMOLED screenPixel Density: 515 ppi (pixels per inch)
4.7-inch super AMOLED HD screen with 1280x720p resolutions
4.7-inch LED-backlit IPS screen with Retina HD (aka full HD) with 1334 x 750p resolutionPixel density: 326 ppi (pixels per inch)Add-ons:- Fingerprint-resistant oleophobic coating on front

- Dual-domain pixels for wider viewing angles

5.5- inch LED-backlit IPS screen with Retina HD (aka full HD) with 1920x1080p resolutionPixel density: 401 ppi (pixels per inch)Add-ons:- Fingerprint-resistant oleophobic coating on front

- Dual-domain pixels for wider viewing angles

OS
Android v4.4.4 KitKat with new TouchWiz UI
Android v4.4.4 KitKat with TouchWiz UI
iOS v8.0 (wider availability of the new OS version to other Apple devices from 17 September)
iOS v8.0 (wider availability of the new OS version to other Apple devices from 17 September)
Processor
2.7GHz Snapdragon 805 quad-core processor paired with or an Exynos 5433 octa-core processor (1.9GHz quad-core+1.3GHz quad-core), depending upon the region.
Exynos Octa-core processor (1.8GHz quad-core + 1.3GHz quad-core)For select markets- smartphone is expected to houseSnapdragon quad-core processor with 2.5 GHz CPU speed
20-nanometer class based second generation 64-bit A8 chipset which is 25-percent faster (50-percent faster graphics too) than the A7 in iPhone 5S.It is aptly supported by second generation, M8 motion co-processor
20-nanometer class based second generation 64-bit A8 chipset which is 25-percent faster (50-percent faster graphics too) than the A7 in iPhone 5S.It is aptly supported by second generation, M8 motion co-processor
RAM
3GB
2GB
1GB
1GB
Storage Capacity
32GB, + 64GB via microSD
32GB (no micro SD card slot)
16GB/64GB/128GB
16GB/64GB/128GB
Camera
Main: 16.0-megapixel camera with Auto-focus and smart OIS (Optimized Image Stabilization)

Front: 3.7-megapixel camera with F1.0 aperture with Wide selfie feature ( similar to panorama feature)Additional specs:

Rear Facing Camera : HDR (Rich tone), Selective Focus, Rear-cam Selfie, Beauty face, Virtual Tour Shot, Shot&More, Dual Camera
Front Facing Camera : Selfie, Wide Selfie

Main: 12.0-megapixel camera with LED flash, 4K @ 30 fps video recording ability, HDR, Selective Focus and more

Front: 2.1-megapixel camera

Main: New 8-megapixel iSight camera with 1.5µ pixels, f/2.2 aperture, True-Tone flash, hybrid IR filter, five-element lens, sapphire crystal lens cover

Front: 1.2-megapixel FaceTime camera with f/2.2 aperture, auto-HDR,720p HD video recording

Main: New 8-megapixel iSight camera with 1.5µ pixels, f/2.2 aperture, True-Tone flash, hybrid IR filter, five-element lens, sapphire crystal lens cover, Optical Image stabilization

Front: 1.2-megapixel FaceTime camera with f/2.2 aperture, auto-HDR,720p HD video recording

Battery
3,220 mAh with super-fast charging capability which can power the phone to 50-percent in just 30 minutes
1,860 mAh; (with ultra power saving mode)
Talk time: up to 14 hours (3G)

Standby time: close to 10 days (250 hours)

Talk time: up to 24 hours (3G)

Standby time: close to 16 days (384 hours)

Network
3G & 4G (LTE Cat 4 150/50Mbps) or 4G (LTE Cat 6 300/50Mbps) depending on the markets
LTE Cat.6 (300/50 Mbps download/upload )
3G & 4G-LTE (with new VoLTE technology for high quality voice-calling)
3G & 4G-LTE (with new VoLTE technology for high quality voice-calling)
Add-ons
Finger print sensor, Download booster, 4 micro-phones, Heart-rate monitor, UV sensor, Bluetooth v4.1, Wi-Fi (802.11 a/b/g/n/ac (HT80) MIMO PCIe ), USB 2.0, IR LED, MHL 3.0
Bluetooth v4.0 (BLE/ANT+), Wi-Fi (802.11 a/b/g/n/ac HT80, MIMO 2x 2), NFC, USB v2.0, Download booster, quick connect, private mode
Finger-print sensor (much better Tough-ID security feature), Wi-Fi (802.11a/b/g/n/ac), Wi-Fi calling (in select markets), Bluetooth v4.0, NFC. GPS/GLONASS
Finger-print sensor (much better Tough-ID security feature), Wi-Fi (802.11a/b/g/n/ac), Wi-Fi calling (in select markets), Bluetooth v4.0, NFC. GPS/GLONASS
Dimensions
153.5 x 78.6 x 8.5 mm
132.4 x 65.5 x 6.7 mm
138.1 x 67.0 x 6.9 mm
158.1 x 77.8 x 7.1 mm
Weight
176 g
115 g
129 g
172 g