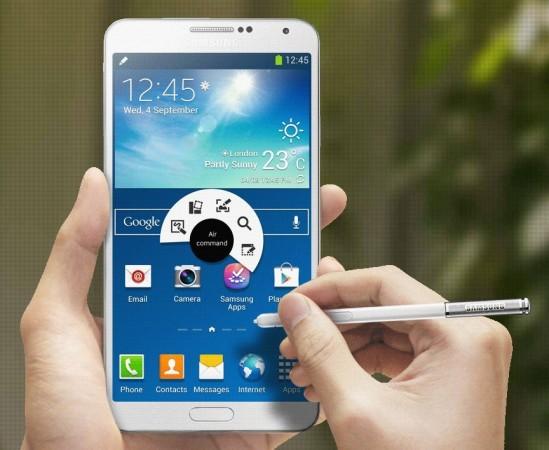 The final countdown for the release of Samsung Galaxy Note 4 has begun with just 12 days before the much-awaited Unpacked event. However, Samsung has remained tight lipped regarding the details of the device from pricing and features to availability, except its unveiling date.
Here is final roundup of Samsung's next-generation device, Galaxy Note 4 before its unveiling event early next month.
Unveiling and Release Date:
Unlike in the past, the South Korean electronics giant will announce the Galaxy Note 4 at three venues - Berlin, Beijing and New York City - simultaneously on 3 September. The company hasn't revealed the release date but several reports claimed that it may hit the stores on 15 September though it is not confirmed.
Features:
Samsung hasn't revealed the features of its new device but those that have appeared in media in the last few weeks are expected to be seen when it is released like in the past.
According to AnTuTu benchmark listings, Samsung may launch two models of Galaxy Note 4. One model of the device is expected to be powered by Qualcomm Snapdragon 805 processor, and the other with Exynos 5433 8 Core. Both the models may run on Android 4.4.3 KitKat and not on Android L as speculated. The Korea Times reported that one variant will have a curved OLED display and the other with a flat OLED display. Executive Vice President of Samsung's mobile business, Lee Younghee also told Wall Street Journal recently that the device might have a flexible display.
There are conflicting reports on the camera of the device with some claiming that it may have a 16MP camera, which is seen in Galaxy S5, while others said that it may reduce pixel to 12MP but with OIS feature. However, going by the trend Samsung has been following all these years, it is very unlikely to degrade the pixel of its camera.
Indonesian retailer Erafone (snapshot obtained by Droid Life) claimed that the device will come in 16/32/64GB variants with 4GB RAM and microSD upto 128GB but earlier reports claimed that it will come with 3GB RAM.
The device may have an S-Pen Stylus with updated gestures and air command. Galaxy Club claimed citing Samsung's patent application that it will be powered by ultrasound technology. In terms of connectivity, it may have 4G LTE radio, dual-band Wi-Fi 802.11 a/b/g/n/ac, dual-band, Wi-Fi direct, DLNA, Wi-Fi hotspot, Bluetooth 4.0 with A2DP, EDR, and LE.
Pricing:
Samsung Electronics has not revealed the price of its upcoming phablet but that hasn't stopped media from speculating. A report by TechTimes claimed that it may come with a price tag of $813 and could be a little cheaper with new 2-year contract.
Availability:
The South Korean company is said to be aiming at making a mark in Chinese market by planning an aggressive marketing of the new device. It will be made available in the US through major wireless carriers like AT&T, Sprint Nextel, T-Mobile and Verizon Wireless.