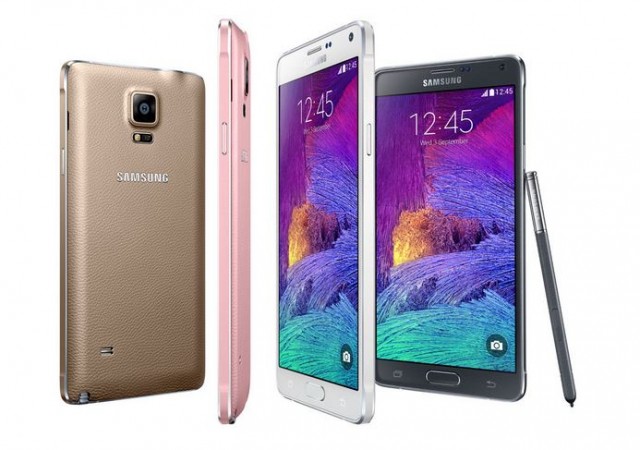 Samsung Electronics unveiled its next generation device, Galaxy Note 4 in Berlin on Wednesday after months of speculations. It came with several feature upgrades over its predecessor Galaxy Note 3 but it may disappoint many gadget lovers, which could indirectly help Apple's upcoming 5.5-inch model of iPhone 6.
The South Korean electronics giant said that the new device will be released in October without specifying the date. However, the minor changes seen in it will confuse Note 3 users, whose contracts are due to end soon, whether to go for Galaxy Note 4 or wait for iPhone 6 which is set to unveil next week.
Apple Inc. is very likely to announce its 4.7-inch and 5.5-inch models of iPhone 6 at its scheduled media event on 9 September. The bigger model is seen as the main competitor of Samsung Galaxy Note 4.
Here are 5 advantages of iPhone 6 over Samsung Galaxy Note 4:
1) Post Unveiling Disappointment: Fans were left disappointed when Samsung released its flagship smartphone Galaxy S5 after it failed to come with several features speculated before its release. The Galaxy Note 4 has finally arrived but it has nothing much to boast of. It has several feature upgrades over its predecessor but there is no major change, so, gadget lovers may wait for the release of iPhone 6 before deciding which device to buy.
2) Hype: It looks like pre-release hype around 5.5-inch model of iPhone 6 is more than Galaxy Note 4, as the company is venturing into big screen handsets for the first time. Fans had expressed their wish for a bigger handset in the past but the company stuck to their argument that an ideal mobile phone should be one that can be held comfortably in one hand but it changed its stand after Samsung's devices sold like hot cake.
3) Build Quality: The Galaxy Note 4 came with a faux leather body, which is also seen in its predecessor, and metal frame but that is not new to iPhone series. The upcoming iPhone 6 is expected to come with metal casing and new look.
4) Loyal Customers: Both Apple Inc. and Samsung Electronics have huge loyal customers but the latter seems to have an upper hand.
5) Screen: Galaxy Note 4 is protected by Corning Gorilla Glass 3 but iPhone 6 is expected to have sapphire crystal glass screen, which is unbreakable and second only to diamond in hardness.
Here is specifications comparison of Samsung Galaxy Note 4 and 5.5-inch model of iPhone 6:
| | | |
| --- | --- | --- |
| Models | Galaxy Note 4 | iPhone 6 |
| Display | 5.7 inch (143.9mm) Quad HD Super AMOLED (2560 x 1440) with 515 ppi pixels density | 5.5-inch screen with sapphire crystal glass and a 2272×1280 (510ppi) resolution |
| Processor | 2.7 GHz Quad-Core Processor / 1.9 GHz Octa-Core (1.9GHz Quad + 1.3GHz Quad-Core) Processor (differ by country and carrier) | 20-nanometer A8 chip (64-bit) processor |
| OS | Android 4.4 (KitKat) | iOS 8 operating system |
| Camera | 16MP rear camera pixel with auto focus, Smart OIS and 3.7MP front camera with f1.9, Selfie, and Wide Selfie. | 8MP camera with flash and Optical Image Stabilization |
| Memory | 32 GB Internal memory with micro SD slot up to 64GB, 3GB RAM | 32/64/128 GB internal memory, 1GB RAM |
| Battery | Li-ion 3,220mAh | 2,500 mAh |