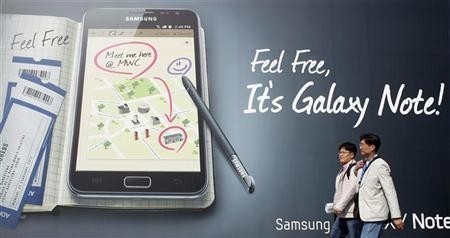 Even before Samsung's fourth generation Galaxy S4 smartphone could make its way to retail stores, speculations are rife that the South Korean giant is gearing up to launch the third iteration of its Galaxy Note series.
A Korean News agency citing an unnamed employee of Samsung's main parts supplier company has revealed that executives of American telecommunication company AT&T are scheduled to meet Samsung officials in Seoul for the Galaxy Note 3 demo this week.
It also revealed that Galaxy Note 3 will sport a 5.9-inch Full HD OLED display and come packed with Samsung's in-house-built Exynos Octa 5 (8-core) processor as well as LTE connectivity. Discussions are underway about other features.
Taking note of the 5.9-inch display, Samsung is apparently expanding the screen size with every new iteration of the Galaxy Note series. With the increase in screen size, the company is blurring the gap between mini-tablets and smartphones.
Samsung is credited as a pioneer in bringing the term 'Phablets' (hybrid of smartphone and tablet) into the smartphone industry. The company's first flagship phablet, Galaxy Note, came with a 5.3-inch screen and became one of the first smartphones to breach beyond the norms of handset display size.
Samsung did not stop there; it came out with a slightly bigger 5.5-inch Galaxy Note 2.
The alleged 5.9-inch Galaxy Note 3 will look more like a tablet than a smartphone, raising concerns on its portability as such a big device is not fit for carrying around in pockets.
If consumers have no qualms about the Galaxy Note 3 size, Samsung is expected to make sky-high profits, maybe even higher than the multi-million sales of previous Galaxy Note models.
(Source: The Korean Times via Android Authority)