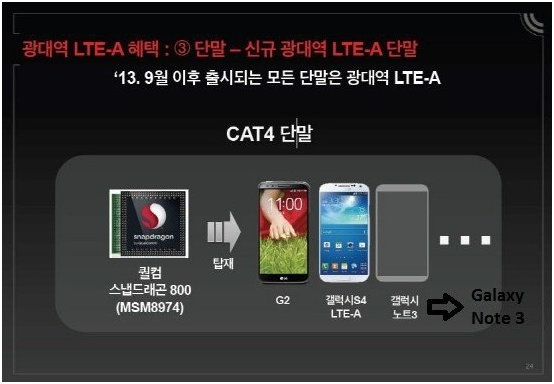 Samsung's next-generation Galaxy Note 3, which is expected to be launched at the upcoming IFA Berlin 2013 event, has been confirmed to sport a Snapdradon 800 SoC processor paired with a massive 2.5GB of RAM, according to latest revelations.
Galaxy Note 3 is expected to come in two variants, based on the chipsets they incorporate - Snapdragon 800 and Exynos 5 Octa-core. The latter version is said to be kept on hold.
The Snapdragon 800 version of Note 3 has been confirmed via leaked slides revealed in a press conference held by KT (Korean Telecom) corporation, reported G for Games. The Snapdragon 800 SoC processor is said to be incorporated by LG G2, Samsung Galaxy S4 LTE-A version and Galaxy Note 3, in the slide. The slide went public during a presentation of LTE- Advanced and Snapdragon 800 SoC.
Samsung has not disclosed the information officially, so one will have to wait till 4 September for the Unpacked event in Berlin.
Recent screenshots of Galaxy Note 3 were posted by serail leakster EV Leaks through a Twitter post. The post reveals the device, codenamed SM-N9005, running on Android 4.3 Jelly Bean OS. The second screenshot confirms the high Antutu benchmark scores for the handset - 24497. Note 3 is also tipped to carry HD screen resolution of 1080X1920 pixels.
The device is also rumoured to feature a 5.9-inch OLED screen display unlike the Super AMOLED screen seen in the previous iteration, Samsung Galaxy Note 2. Galaxy Note 3 is said to operate on the latest Android 4.3 Jelly Bean software and is also said to come with the S Orb camera feature, which will enable users to click pictures in 360 degrees resulting into a single panorama stitch, reported Techradar. The device has been rumoured to be scheduled for 27 September release.
Based on the expected features of the device, the website estimates that the handset will cost a hefty ₹58,218 INR (£550).