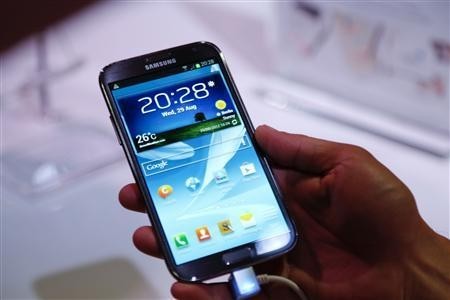 Electronics giant Samsung is still reeling in success following the launch of Galaxy Note 2. The smartphone-tablet hybrid is gradually climbing its way to be among the world's best selling devices, with already five million units sold out since its roll out in September.
The sales growth of Galaxy Note 2, which is Samsung's latest addition to its phablet series, breached that of its predecessor model Galaxy Note, selling over two times faster. The previous Note took a little longer at five months to achieve the five million mark, Pop Herald noted.
First shown at the Berlin's IFA 2012 in August, Galaxy Note 2 was a show stopper with its bigger 5.5-inch Super AMOLED touchscreen display with 1280 x 720 resolution that is backed by a powerful 1.6GHz quad-core processor. Among other features of the phablet unveiled were 2G RAM, 8-megapixel rear camera, 1.9-front camera and a massive 3,100 mAh Li-ion battery.
Also included in Galaxy Note 2 are Android 4.1 Jelly Bean OS, micro SD card slot supporting 32GB, three configurations of 16/32/64GB internal storage, and a highly improved stylus. Samsung rolled out the device to the Indian market for ₹39,990.
According to research firm, International Data Corporation, Samsung is presently dominating the smartphone market, with its Galaxy S3 taking lead at 56 million in unit sales this third quarter. Rival Apple also stood out with its iPhone sales reaching 26.9 million units during the same period.
After taking note of its success, the South-Korean company unveiled a dual-SIM version of Galaxy Note 2 this week.
According to reports, the new version, dubbed GT-N7102, features a mini SIM slot and a MicroSIM slot. Both slots have GSM/HSDPA connectivity capabilities. Other specifications and features, including the 5.5-in Super AMOLED HD screen and 1.6GHz quad-core processor, that are found on Galaxy Note 2 remain the same.
The dual-SIM model will reportedly retail in China early December. Samsung is yet to reveal details on pricing and availability in other countries.