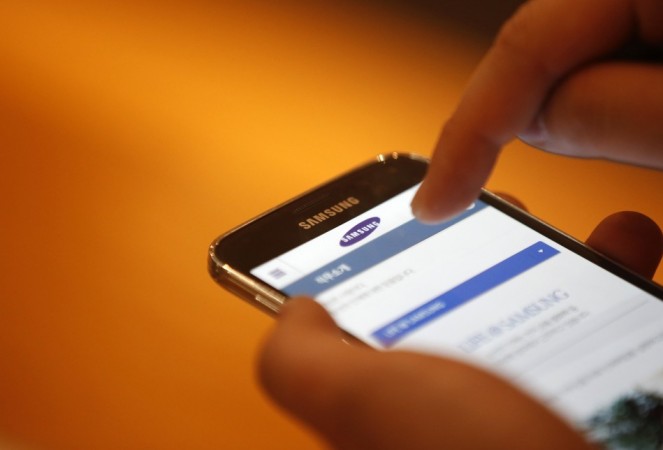 For the past few weeks, we have been hearing rumors of Samsung preparing a new premium series Galaxy Alpha, and now for the first time, pictures and the specifications of it have surfaced online giving a glimpse of the upcoming device.
Samsung community blog, SamMobile has gotten hold of the exclusive pictures of Galaxy Alpha (SM- G850) revealing the phone's metal composition. In the first picture, the new phone is seen along with Galaxy S5. It is smaller in size compared to the Samsung's flagship phone, but boasts a similar back panel with dotted dimpled texture surface. If closely observed, Galaxy Alpha comes with a shiny metal (Aluminum) based frame exuding premium finish. Other snapshots show the device in different angles and its display as well, but it does not provide any clue to figure out the resolution of the screen. [To view the pictures, click here]
Another Vietnamese website, Tinhte has also released a series of similar snapshots of the alleged Galaxy Alpha, corroborating the above report. [To view, click here]
As far as the specifications are concerned, nothing much is known about the new Galaxy Alpha other than its 4.7-inch screen, finger-print sensor, 32GB inbuilt storage, nano-SIM slot and a new Exynos processor (with A-LTE radio which supports- 150 mbps Internet speed). Key features like its display material (LCD or AMOLED), screen resolution, processor, RAM and battery capacity are yet to be ascertained.
If rumors are to be believed, Galaxy Alpha is expected to be an ultra-premium phone targeted to offset Apple's upcoming iPhone 6 series, which is said to come with a major upgrade over its predecessor in terms of design and screen-size.
As of now, Samsung is yet to respond to the rumors; and until the company comes out and clears the air over the rumors, this report will remain as pure speculations only.
Besides Galaxy Alpha, Samsung is also working on the 2014 flagship phablet Galaxy Note 4. It is said to have different design language, bendable screen, advanced biometric-technology- Iris scanner for secured screen unlocking, ultra-sound based S-Pen, UV sensor, 4GB RAM and 16-megapixel camera with OIS feature.