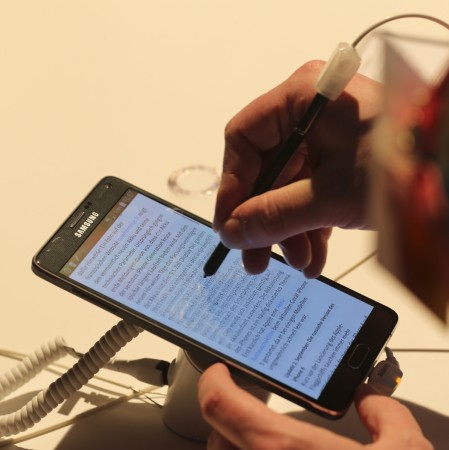 Samsung may not have boasted about the Galaxy Note 4 and Galaxy Alpha's Corning Gorilla Glass 4 feature, but the two handsets are the only ones in the market with best screen protection. The two devices are listed on Corning's official website as the smartphones with Corning Gorilla Glass 4, which was announced late in November. Ironically, Galaxy Alpha was launched in August and Note 4 was announced in September.
Samsung, which proactively highlights every feature in its smartphones, likely missed the emphasis on the Corning Gorilla Glass 4 as the maker of the glass hadn't officially confirmed the release.
Corning officially confirmed Gorilla Glass 4 in Samsung's two new phones on Tuesday. The new display protection glass is only 0.4mm and has high resistance to falls compared to its previous versions. The thin profile of the new Gorilla Glass helped Samsung achieve the sleekness it has scored in the new Alpha and Note 4 smartphones.
"Device makers want to go thinner without sacrificing on damage resistance. Samsung is not only meeting these requirements, but is on the cutting edge of smartphone design. Galaxy Alpha is the culmination of our close collaboration with Samsung," Cliff Hund, general manager and president, Corning East Asia said in a statement.
The news of Corning Glass 4 came to light in November with a leaked report of Lumia flagship prototype. Even though the company announced the Glass 4 in November, it kept the news about the smartphones being equipped with the new technology a secret.
Thanks to Corning's official release, Samsung now has another feature to boast about. Maybe with a new video that shows off the smartphone's resistance to 1 meter falls like the one Corning released last month?