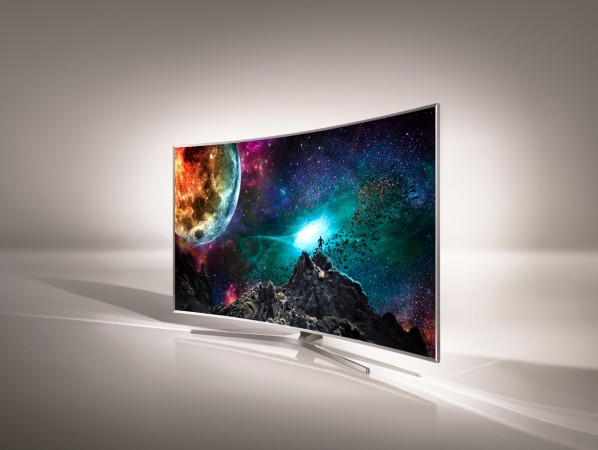 Samsung Electronics has introduced an extensive range of SUHD TVs at the Samsung Forum 2015 in Bangkok. The TVs set a new standard in premium Ultra HD content and elevate viewing experience to new heights.
Samsung also showcased its expansive line-up of audio products, including Curved Soundbars, which complement and enhance the home entertainment experience with powerful, crystal clear sound.
"Our innovative heritage and spirit continue to push the boundaries of the home entertainment experience to new possibilities. Regardless of the content source, Samsung provides the best picture quality in the industry and will continue to do so with our SUHD TVs. Consumers can trust that we are more committed than ever to consistently deliver the superior home entertainment experience for years to come." said HyunChil Hong, President and CEO, Samsung Electronics India.
Samsung Smart TV
Samsung has announced that its Smart TVs will be powered by Tizen OS. It has also claimed the new Smart TV platform will offer a multitude of new features with a more intuitive UI, more integrated entertainment experience, and more ways to access content than ever before.
The company claims the new user interface for Samsung's Smart Hub is more responsive and playful. It is simplified to just one screen, displaying consumers' most recent content and tailored recommendations for more entertainment options.
Samsung Smart TVs also come equipped with Quick Connect through which they can automatically recognize Samsung smartphones once paired via BLE (Bluetooth Low Energy) technology. Consumers can share video content from their Samsung smartphones to their Smart TVs with the press of a button. Also, users can watch TV through their mobile devices without any apps or complicated pre-settings.
Samsung Smart TV owners can wake a bit easier with Briefing on TV. Samsung Smart TVs now act as an alarm and sync up with Samsung mobile devices, to turn on and display important items such as time, weather and consumers' schedule for the day.
Samsung SUHD TV
Samsung will offer three new series of SUHD TVs – JS9500 and JS9000 – from 55 to 88 inches, so consumers have the flexibility to purchase the perfect TV that fits their style and taste.
As the first "S" branded TV, Samsung's SUHD TV is designed to offer stylish design, advances in contrast, brightness, colour reproduction and detail, to deliver a superior picture quality experience. They utilize proprietary, eco-friendly nano-crystal technology and include an intelligent SUHD re-mastering picture quality engine.
SUHD TVs nano-crystal semiconductor transmits different colours of light depending on their size to produce the highest colour purity and light efficiency. This produces a wider range of more accurate colours, or 64 times the colour expression of conventional TVs. The SUHD re-mastering engine automatically analyzes the brightness of images to minimize additional power consumption while producing ultimate contrast levels. This ensures much darker blacks and an elevated brightness that is 2.5 times brighter than conventional TVs.
By collaborating with 20th Century Fox, Samsung has optimized content to meet premium quality SUHD standards. Samsung has partnered with Fox Innovation Lab to re-master multiple scenes from its critically acclaimed film "Exodus" by Ridley Scott, specially for the SUHD TV. The result is spectacular – generating more vivid colours and lifelike scenes.
Samsung's SUHD TV JS9500 features a chamfer bezel design, adding more depth to the TV screen, and the elegant frame makes the display look like a piece of art when mounted on the wall. The SUHD TV JS9000 also has a soft, textured shirring design on the rear of the display, giving the TV a premium look and stylish edge from any angle.
Samsung Sound Bar
Samsung is introducing the Curved Soundbar that features a sleek and clean design. It complements Samsung's Curved TVs from 55 inches to 65 inches, providing a premium audio solution that can also be mounted on the TV.
The newly-introduced 7500 series also offers enhanced sound quality with 8.1 channel audio, featuring side speakers on each end added to deliver a more equalized surround-sound experience. Also, users can stream music through the multiroom functionality and wirelessly connect to TV through Bluetooth.
Club Samsung
Samsung also introduces Club Samsung, a single unified store for entertainment, including music and movies in your preferred Indian language. With its intuitive user interface, it is optimized for television and can be also accessed across Samsung's Smart Devices.
Consumers can enjoy premium quality content from Box TV, Sony Liv, Hungama and MTV Indies, as Samsung has tied-up with them to deliver international titles to consumers in Southwest Asia.
Samsung's platform powered by Tizen allows Samsung Smart TVs to become part of a much larger content ecosystem, allowing easy collaboration with a number of partners for ultimate flexibility and unparalleled access.
With all Samsung TVs poised to become Internet of Things devices by 2017, the Smart TV compatibility with other devices establishes Samsung's Smart TVs as the nerve centre of any Smart Home.