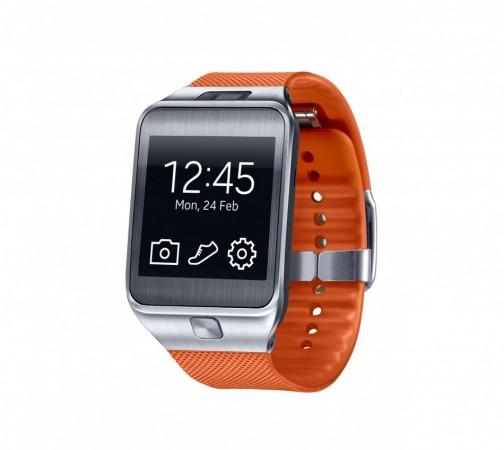 Consumer electronics giant, Samsung has reportedly revealed the prices of the company's new generation wearable devices - Gear 2 and Gear Fit, nearly a month after the official launch.
As of now, Samsung has disclosed the smart devices price details only for Taiwan region. Online retailer, ePrice has listed Gear 2 for TWD 8,999 (around ₹18,000) and Gear Fit holds a price-tag of TWD 5990 (around ₹11,990). However, price detail of the Gear 2's cheaper sibling Gear 2 Neo is yet to be ascertained.
Galaxy Gear 2 sports a 1.63-inch Super AMOLED display with 320x320p resolution. Unlike its predecessor, the new generation smartwatch run on the Samsung's proprietary Tizen operating system, instead of Android OS. It houses 1.0-GHz dual-core processor with 512MB RAM and 4GB inbuilt memory.
Other notable features include 2.0-megapixel camera on the smartwatch module (an improvement over its predecessor which had camera in the strap), dust and water-resistant IP67 certifications, control TV (featuring IrLED sensor) and offer personal fitness coaching via value-added applications like Exercise (comes with Standalone mode and Companion mode), Pedometer along with Heart Rate sensor, Sleep and Stress app (needs to be downloaded separately).
On the other hand, Gear Fit boasts IP67 water-and-dust repellent certifications and sports a 1.84-inch curved Super AMOLED display with 432x128p resolution. It comes with plethora of fitness applications Pedometer, Exercise app, HeartRate monitor, Sleep monitor, Stopwatch, Timer and also boasts of value-added features like Notifications (SNS, Call,E-mail, Apps), schedule, Smart Relay, Media Control.
Key Specifications of Gear 2 and Gear 2 Neo:
Model
Gear 2 and Gear 2 Neo
Display
1.63-inch Super AMOLED display with 320x320p resolutions
OS/ interface
Tizen based wearable platform
Processor
1.0GHz dual-core processor
RAM
512MB RAM
Memory
4GB
Camera
Gear 2: 2.0-megapixel camera with auto-focus, Sound & Shot, Location Tags, SignatureGear 2 Neo: Not available
Battery
300 mAh;Normal usage: 2-3 days

Low usage: up to 6 days

Fitness features
Heart Rate sensor, Pedometer, Sleep & Stress app (needs to be downloaded separately), Exercise (with Standalone mode and Companion mode)
Add-ons
Bluetooth call, Camera, Notification (SMS, E-Mail, Apps), dust and water resistant IP67 certifications, Noise cancellation, media controller, Smart Relay, S Voice, Stopwatch, Dust and water resistant IP67 certifications, Noise cancellation
Dimensions
Gear 2: 36.9 x 58.4 x 10.0 mmGear 2 Neo: 37.9 x 58.8 x 10.0 mm
Weight
Gear 2: 68 gGear 2 Neo: 55 g
Colors (Changeable straps)
Gear 2: Charcoal Black, Gold Brown and Wild OrangeGear 2 Neo: Charcoal Black, Mocha Grey and Wild Orange
Price (Taiwan)
Gear 2: TWD 8,999 (around ₹18,000)Gear 2 Neo: Not yet disclosed
Key Specifications of Samsung Gear Fit:
Model
Samsung Gear Fit
Display
1.84 curved Super AMOLED screen with 432x128p resolutions
Sensors
Accelerometer, Gyro, HeartRate
Applications
Pedometer, Exercise app, HeartRate monitor, sleep, Stopwatch, Timer, Notifications (SNS, Call,E-mail, Apps), schedule, Smart Relay, Media Control
Add-ons
IP67 dust and water resistant, Bluetooth v4.0 LE, Changeable strap
Battery
210 mAh;Typical usage: 3 to 4 days

Low usage: close to 5 days

Dimensions
23.4 x 57.4 x 11.95 mm
Weight
27g
Price (Taiwan)
TWD 5990 (around ₹11,990)