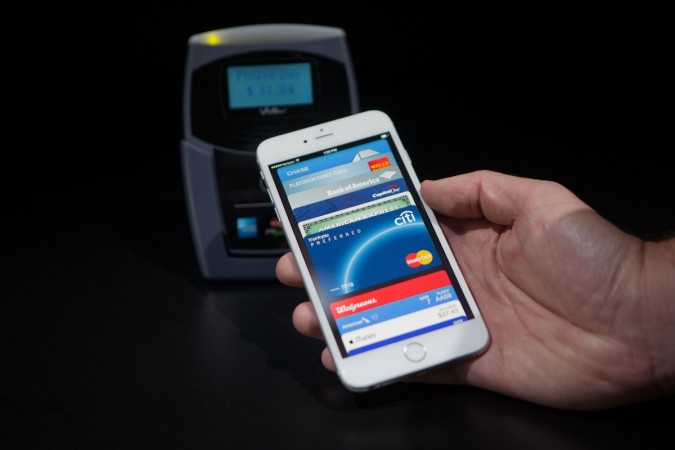 Announcement of Galaxy S6 was not the only big card dealt by Samsung at this year's MWC event. Apart from the handset, alongside Galaxy S6 Edge, Samsung also announced "Samsung Pay", its own mobile payments system that will be a direct rival to Apple Pay.
Samsung and Apple have been arch rivals in the smartphone business for a long time now. And, it's only natural for a company to come out with devices that match its rival's offerings. However, unlike others, Samsung and Apple have extended their rivalries beyond the smartphone arena.
Samsung showcased its own take on the concept of using a mobile phone as a wallet this Sunday by introducing Samsung Pay, an application that allows the user to pay for goods and services by just waving the smartphone near a register, rather than swiping a credit card or using physical cash.
In fact, it's not that difficult to see that Samsung Pay is indeed a direct answer to Apple Pay. Apple's own Pay method was announced last year along with iPhone 6 and iPhone 6 Plus. But since the world isn't big enough for too many mobile payment systems, it will be interesting to note who goes the distance.
From what we have seen so far, Samsung Pay has all the ingredients required to worry Apple and even Google (Wallet). In real life, Apple and Google may have commenced their contactless payment technologies first in the market, but they still require a lot of improvements and changes to really make an impact. And, this is where Samsung Pay comes in.
For starters, Samsung Pay makes use of both near-field communications (NFC) and magnetic secure transmission (MST) technology via LoopPay to its advantage.
This means that not only can it make the same kind of protected contactless transactions that Apple Pay is capable of, but can also make several "swipe" purchases on a vast majority of older payment terminals that haven't upgraded to or don't support NFC.
Apart from this, Samsung has even revamped the new smartphones' fingerprint sensors in order to make them work with just a press rather than a swipe (read: backward compatibility). This makes it easier to conduct any purchase with a simple tap of the thumb. That being said, Samsung also makes sure you get the support from almost all the retailers out there.
Aimed at creating a much broader and openly welcomed financial network, Samsung has also brought in the likes of MasterCard and Visa as partners, alongside four of the largest card-issuing banks: JP Morgan Chase, Bank of America, Citi and US Bank.
Clearly, Samsung takes a lot of inspiration in this regard from the fact that several different banking deals were one of the highlight reasons why Apple Pay went on to be a big hit initially. And this was good news for consumers as well since they could patch up almost any of their debit and credit cards into the iPhone's wallet.
And creating good terms with all the big banking names around, while having most of them on-board as partners is something that Samsung will indeed look forward to. After all, its biggest selling point has to be the fact that Samsung Pay will support a larger number of terminals in the US, compared to Apple Pay.
"Samsung Pay will reinvent how people pay for goods and services and transform how they use their smartphones," JK Shin, co-CEO who runs the IT and mobile divisions at Samsung Electronics, said in a statement.
Moreover, it's also good to see the kind of faith Samsung harbours upon its recently purchased LoopPay brand. Working together with LoopPay, this allows Galaxy S6 and Galaxy S6 Edge to work with many more merchants and stores. The company has also confirmed that it has the potential of being accepted at 30 million merchant locations around the world.
The contactless mobile payment technology is still taking baby steps forward and will require a bit of time before it finally experiences something of a heyday. However, the earlier signs seem bright, with Samsung Pay only adding to all things good in the mix. And if Apple isn't careful, it could be run over by Samsung's own little mobile payments ball game in the industry.
Stay tuned for more updates!