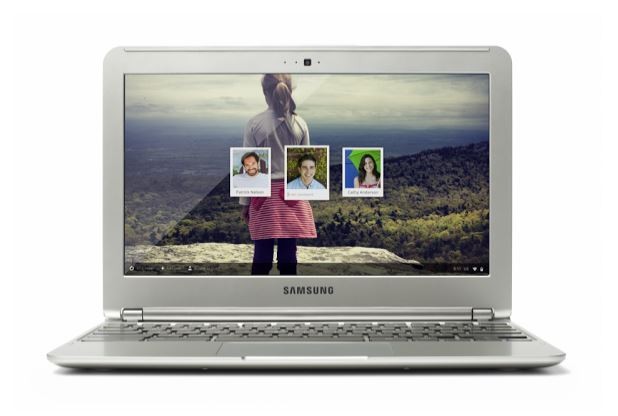 Consumer electronics giant, Samsung has officially announced the new Chromebook 2 series laptops in America.
"Since we introduced our first Chromebook in 2011, Samsung has been committed to continually developing our designs and features to meet our users' ever-changing needs, while staying true to the core Chromebook attributes of simplicity, speed and security," said Mike Abary, senior vice president of consumer IT product marketing at Samsung Electronics America.
"Samsung has been the top selling consumer Chromebook brand for the past three years and we'll continue to grow our leadership position in this space with the launch of the Chromebook 2 Series," he added.
The new Google Chrome OS powered devices come in two variants- one a 11.6-inch and another 13.3-inch models.
The smaller Chromebook sports a 11.6-inch HD (1366x768p) LED display and runs on the Samsung's in-house built 1.9GHz Exynos 5 Octa-core processor paired with 1600MHZ 4GB DDR3L RAM and 16GB e.MMC storage (iNAND embedded flash drive). It also features HD 720p web camera on the front.
On the other hand, 13.3-inch model falls in the higher-end category. It boasts full HD (1920x1080p) LED display, faster 2.1GHz Samsung Exynos 5 Octa-core CPU (this is said to feature in the second Galaxy S5 variant), 1600MHz 4GB DRR3L system memory, 16GB eMMC iNAND embedded flash drive, HD 720p web camera and a battery, which can give back-up for up to 8.5 hours.
The most notable part of these devices is that they feature the faux leather stitching on their lid influenced by the company's flagship phablet Galaxy Note 3.
Samsung has confirmed that the Chromebook 2 series -11.6-inch and 13.3-inch devices will be made available from April for $319 (around ₹19,870) and $399.99 (around ₹24,330) respectively.
Key specifications of Samsung Chromebook 2 laptops:
| | | |
| --- | --- | --- |
| Models | 11.6-inch Samsung Chromebook 2 | 13.3-inch Samsung Chromebook 2 |
| Display | 11.6-inch HD LED screen with 1366x768p resolutions | 13.3-inch full HD LED screen with 1920x1080p resolutions |
| OS | Google Chrome | Google Chrome |
| Processor | 1.9GHz Samsung Exynos 5 Octa-core (2MB L2 Cache) | 2.1GHz Samsung Exynos 5 Octa-core (2MB L2 Cache) |
| RAM | 1600MHz 4GB DDR3L System Memory | 1600MHz 4GB DDR3L System Memory |
| Storage Capacity | 16GB e.MMC iNAND Embedded Flash Drive | 16GB e.MMC iNAND Embedded Flash Drive |
| Camera | HD (720p) Web Camera | HD (720p) Web Camera |
| Battery | Up to 8 hours | Up to 8.5 hours |
| Add-ons | 1 HDMI, 1 USB3.0, 1 USB2.0, MicroSD Multi-media Card Reader, Headphone out/Mic-in Combo, DC- in | 1 HDMI, 1 USB3.0, 1 USB2.0, MicroSD Multi-media Card Reader, Headphone out/Mic-in Combo, DC- in |
| Dimensions | 289.56 x 204.72 x 16.76 mm | 323.09 x 223.52 x 16.51 mm |
| Weight | 1.10 kg | 1.40 kg |
| Colors | Jet Black, Classic White | Luminous Titan Gray |
| Price | $319 (around ₹19,870) | $399.99 (around ₹24,330) |