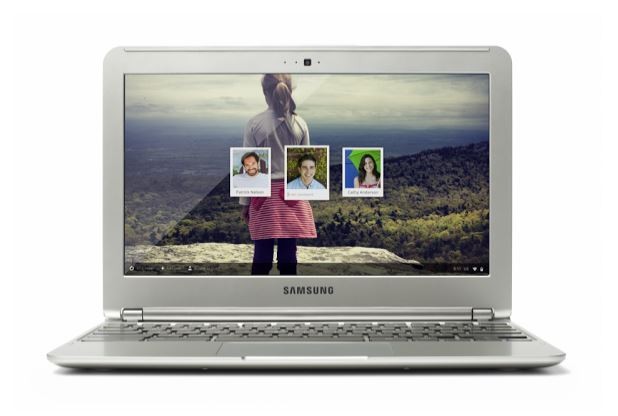 Snapshots of Samsung's upcoming new-generation Google powered Chromebook have surfaced online featuring the faux-leather stitching.
Popular twitter spy, @evleaks has revealed the images of the soon-to-be launched Samsung's Chromebook 2. In the photo, we see a slim notebook PC featuring famed faux-leather based lid, which we have so far seen only in company's flagship Galaxy devices (smartphones and tablets). Though the fake-skin on the device might make a few people cringe, it does succeed in standing out among other laptops in the market. [To view the pictures, click here and here]
The South Korean company first introduced faux leather based cover in Galaxy Note 3 last year in order to give a premium look to the device, but it failed to impress the critics. The company despite getting panned, went on to use same artificial hide in the new tablet series Galaxy Tab Pro and Note Pro tablets (in January) as well as new Galaxy S4 and S4 mini variants 'Black Edition' (launched last month).
Soon after unveiling Galaxy S5 featuring polycarbonate based cover with water-resistant certification, many thought Samsung has finally moved on to newer avenue, but now with the release of new Chromebook photos online, it seems like company is not yet done with the faux-leather design.
As per numerous Android OS, Samsung's Chromebook 2 is said to come in two variants- one 11.6-inch and another 13.3-inch. Both the models reportedly house 4GB RAM and 16GB inbuilt memory. However, there is no word on when the device gets launched.