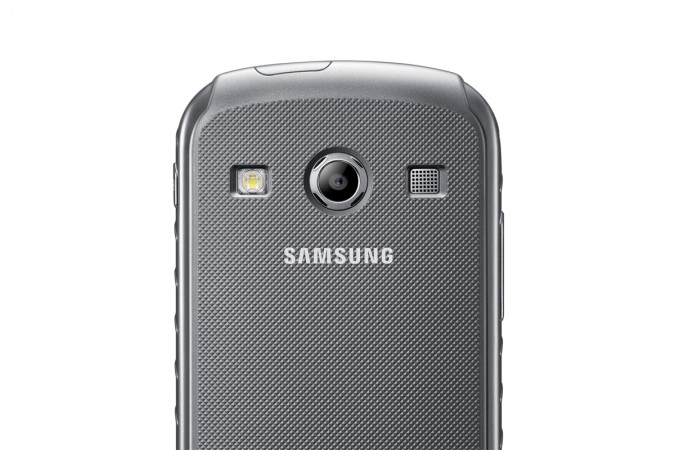 Samsung is going through some rough patches with weak sales of its smartphones and losing its title to Apple in 2015 first quarter earnings. But the tech giant is not giving up so easily. In entirely unexpected news, GSM Arena spotted unofficial images and leaked specs of a new Galaxy Xcover smartphone, continuing the company's less-popular line of rugged smartphones.
After launching the Active variants of the Galaxy flagships recently, Samsung's Xcover was unexpected to reappear. The ruggedness was the main highlight of the Xcover series and with Samsung Galaxy S5 Active and Galaxy S4 Active, Samsung seemed to have taken the fresh approach. But clearly, the Xcover series is not fully dead.
The newly-spotted Galaxy Xcover 3 resembles the Galaxy Xcover 2 smartphone, which was launched in January 2013. The smartphones in this series are not known for their features but make a strong statement with a strong body.
According to the rumoured specs of the new smartphone in the GFXBench, Galaxy Xcover 3 is expected to pack a 4.8-inch display with 800x480 pixels, 8GB storage, 5mp rear camera and a 2mp front snapper. It will be powered by a Marvell Armada PXA1908 chipset with a quad-core Cortex-A53 CPU and 1GB of RAM, the report added.
The handset's back cover has a unique texture that will promise a secure grip in water and mud. It has toughened corners to withstand falls and scratches.
The Xcover 2 smartphone had unique features like water and dust resitance and a direct camera key for underwater pictures. It is most likely that the successor will integrate similar features and add more. The rumoured handset is expected to run Android 4.4.4 KitKat, but so far there is no information on the pricing and availability of the handset.