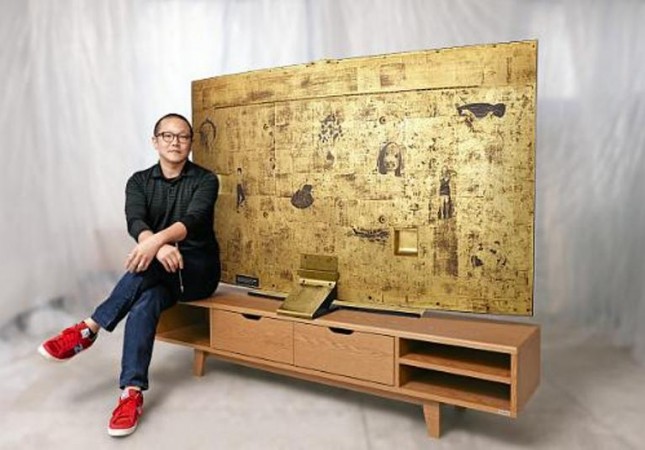 Samsung, the global leader in technology, is putting its product and services to a good cause. In a new partnership with the world's largest art business and auction house, Christie's, Samsung will be auctioning off a true masterpiece, its 78-inch curved UHD television. Without any modifications to the set's features and designs, the back panel will grab attention with its fine art in gold hue. The proceeds from the sale will be donated to Orbis, an NGO that aims to prevent and treat blindness.
The unique television will be publicly displayed at the Hong Kong Convention and Exhibition Centre during Christie's autumn auction, which kicks off November 20. According to an official press release, Samsung's latest UHD TV was customized for auction by artist Sung Yong Hong using a Korean lacquer-painting technique called Ottchil.
"The Samsung Curved UHD TV is an artistic creation, but this collaboration with Sung Yong Hong elevates it to a true work of art," KK Park, Executive Vice President and head of Sales & Marketing at Samsung, said in a press statement on Wednesday.
The one-off piece is based on the theme "Memory of TV," which features various famous characters from the film fraternity on the set's rear side.
"The TV is the centerpiece of every home, and we are excited to share this work of art with the clients of Christie's Hong Kong," Park added. "TV is a part of all cultures and we hope that everyone can enjoy watching it. We are also very proud to support Orbis, as they work towards the prevention and treatment of the causes of avoidable blindness."
The technical specifications of the TV were not shared but it looks like a traditional 78-inch curved UHD TV.