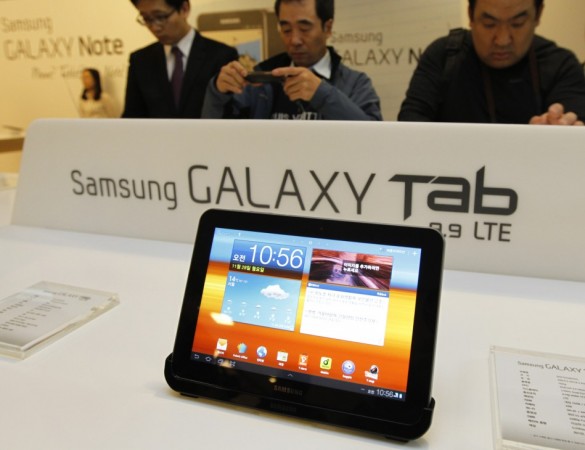 After months of speculation, Samsung has finally announced the new generation Galaxy Tab4 series slates - 10.1, 8.0 and 7.0.
All three Galaxy Tab4 line devices house toned downed features of the recently released high-end Galaxy Tabpro and NotePro series slates, probably to cater to price-conscious consumers of emerging markets.
They pack pretty much same specifications sans the size and battery capacity. The new devices feature WXGA (1280) display 16:10 display ratio and ship with latest Android v4.4 KitKat OS, 1.2GHz quad-core processor, 1.5GB RAM, 16GB storage, 3.0-megapixel camera with fixed focus on the rear side and a 1.3-megapixel snapper on the front.
Other mentionable features include Group Play (share and play music, games and documents with friend in real time), Samsung Link (share and play multimedia contents across multiple devices anytime and anywhere) and WatchOn (watch TV shows and movies on any device, almost anywhere either in home or traveling).
The company has confirmed that the new Galaxy Tab4 devices will hit global markets in Q2 2014, however the details pertaining to price is still under wraps.
Specifications of Samsung Galaxy Tab4 series slate variants:
| | | | |
| --- | --- | --- | --- |
| Model | Galaxy Tab4 7.0 | Galaxy Tab4 8.0 | Galaxy Tab4 10.1 |
| Display | 7.0-inch WXGA (1280x800p) TFT LCD screen with 16:10 display ration | 8.0-inch WXGA (1280x800p) TFT LCD screen with 16:10 display ration | 10.1-inch WXGA (1280x800) TFT LCD screen with 16:10 display ration |
| OS | Android v4.4 KitKat | Android v4.4 KitKat | Android v4.4 KitKat |
| Processor | 1.2GHz quad-core CPU | 1.2GHz quad-core CPU | 1.2GHz quad-core CPU |
| RAM | 1.5GB | 1.5GB | 1.5GB RAM |
| Storage | 8GB/16GB, expandable up to 32GB - 3G/Wi-FiUp to 64GB for LTE variant | 16GB, (expandable up to 64GB) | 16GB (expandable up to 64GB) |
| Camera | Main: 3.0-megapixel camera with fixed focusFront: 1.3-megapixel camera | Main: 3.0-megapixel cameraFront: 1.3-megapixel | Main: 3.0-megapixel camera with fixed focusFront: 1.3-megapixel camera |
| Battery | --------------- | 4,450 mAh | 6,800 mAh |
| variants | Wi-Fi only, Wi-Fi +3G, Wi-Fi+ LTE (Cat.4) | Wi-Fi only, Wi-Fi +3G, Wi-Fi+ LTE (Cat.4) | Wi-Fi only, Wi-Fi +3G, Wi-Fi+ LTE (Cat.4) |
| Add-ons | Wi-Fi (802.11 a/b/g/n), Wi-Fi Direct, Bluetooth v4.0, microSD card, GPS, GLONASS, USB v2.0, ChatON, Voice Call, MultiWindow, HW Key, Samsung Kies, Samsung Apps,Group Play (D/L), Samsung Link (D/L) | Wi-Fi (802.11 a/b/g/n), Wi-Fi Direct, Bluetooth v4.0, microSD card, GPS, GLONASS, USB v2.0, ChatON, Voice Call, MultiWindow, HW Key, Samsung Kies, Samsung Apps,Group Play (D/L), Samsung Link (D/L) | Wi-Fi (802.11 a/b/g/n), Wi-Fi Direct, Bluetooth v4.0, microSD card, GPS, GLONASS, USB v2.0, ChatON, Voice Call, MultiWindow, HW Key, Samsung Kies, Samsung Apps,Group Play (D/L), Samsung Link (D/L) |
| Dimensions | 186.9 x 107.9 x 9.0 mm | 210.0 x 124.0 x 7.95 mm | 243.0 x 176.0 x 7.95 mm |
| Weight | 276 g | 320 g | 487 g |