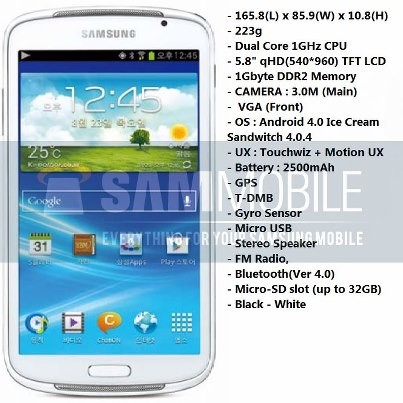 Electronics giant Samsung showed off its brand new media player Galaxy Player 5.8 on Monday through its Korean language blog Samsung Tomorrow.
The Android-based Galaxy Player 5.8 features a 5.8-inch PMP display with 540X960 resolution, slightly bigger by an inch than over the Galaxy S3. The device also gets the title as the company's largest sized music player and is the first player of the Korean giant to get the latest generation of TouchWiz.
The all new touch screen music player is powered by a 1 GHz dual-core CPU with 1 GB RAM. The player which comes with WIFI connectivity is available either with 16GB or 32GB memory on board and has 2,500mAh battery to balance its massive size display.
The Galaxy Player 5.8 comes with an educational focused portal that has Rich educational content, including lectures 'learning hub' and dictionary. Other features of the player include a forward facing camera for video calls, microSD slot and Bluetooth 4.0. The product will be available in black and white variants.
The company is yet to reveal pricing and availability of the product and the tech world is expecting the official launch of the product at Samsung's IFA 2012 press conferences scheduled next month in Germany.
At the same time, the Indian market sees no hope of getting this product as the earlier version in the same series is yet to be launched in the market. Samsung's first music player in this series rolled out in the market about eighteen months back and Galaxy Player 5.8 has four predecessors.