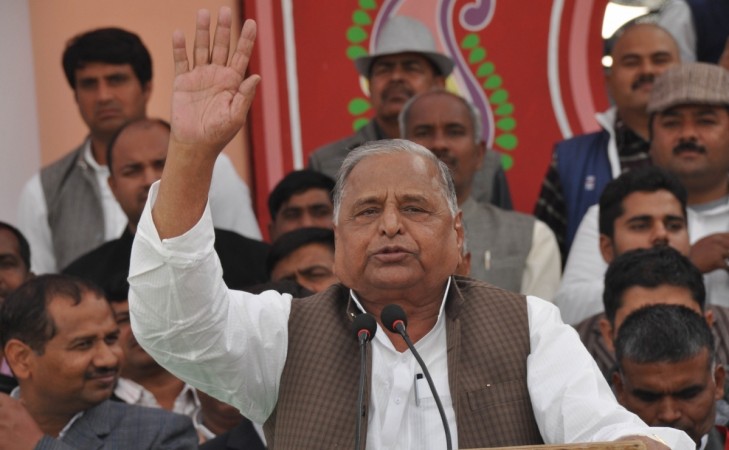 Samajwadi Party (SP) supremo Mulayam Singh Yadav addressed a press conference at 2:30 pm on Tuesday at the party office in Lucknow following the sacking of brother Shivpal Yadav and the argument with son and Uttar Pradesh Chief Minister Akhilesh Yadav on Sunday.
Mulayam, who was accompanied by Shivpal Yadav, said that there was no rift in the party or the family and that "our family is united, the party is united, forces are united." Akhilesh Yadav was not present at the press meet. He also said that he trusted the citizens of the state and thanked them for their support.
The SP chief backed Shivpal Yadav and Amar Singh saying that the latter need not be dragged into everything and that he doesn't "give importance to Ram Gopal Yadav's statements."
When asked whether the sacked ministers would be reinstated, Mulayam said that he would leave this decision to his son and Uttar Pradesh Chief Minister Akhilesh Yadav. The SP chief refused to make any controversial statement at the press briefing in Lucknow.
"I will not give a single controversial answer no matter how many controversial questions you ask," Mulayam Singh told the media.
When asked who would be the CM candidate for the state polls in 2017, Mulayam said: "Humara bahumath aane dijiye uske baad aapko pata chal jaaega (You will come to know everything once the party comes to power). Right now Akhilesh is the CM. Does anyone have a problem with that?"
"Why would I want to be chief minister for just two months?" the SP supremo responded to a question about a proposition that making Mulayam the chief minister would solve all problems.
Mulayam had called Akhilesh and Shivpal to his residence late evening and asked them to resolve their differences and work together to lead the party to the state polls in 2017.
Akhilesh and Shivpal had a meeting that lasted for 45 minutes at the CM's residence before leaving in a car to meet Mulayam, the Indian Express quoted sources as saying. The three leaders had a meeting for over an hour. The SP supremo made them hug each other and promise to work together, sources added.
A heated argument broke out between the three leaders in public during the day, forcing Akhilesh to offer his resignation to his father. Mulayam, however, turned down the offer. Akhilesh almost broke down while addressing his father during the meeting.
"Netaji, you taught me to stand up against injustice. People are saying that a new party will be formed. Why will I form a new party? Who are these people saying such things? I can't do any other work. Do you want me to step down from the heights I have reached and go elsewhere... I had already said this is your party. I have no stake in it. I am fortunate that I am the son of Netaji. I have executed the responsibilities of a son... I would have resigned if you had asked me to," Akhilesh told his father.