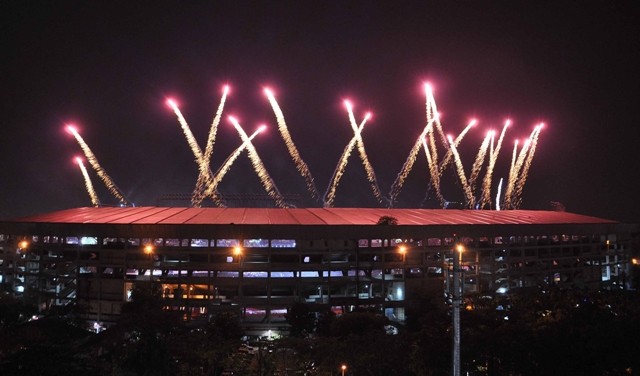 Although official confirmation is only expected in October this year, FIFA has been tipped to name the Salt Lake stadium in Kolkata as the hosts for the the final of the U-17 FIFA World Cup in 2017.
The gigantic football stadium in India -- second only to the Rungrado May Day Stadium in North Korea, in the list of the largest football stadiums in the world -- has pretty much impressed the FIFA delegation, who are on their penultimate inspection tour in India ahead of the 2017 World Cup.
Venues from Goa, Kochi, Mumbai, Guwahati, Kolkata and New Delhi have been provisionally selected by FIFA to host the U-17 FIFA World Cup next year. The officials have so far completed their inspection of Goa and Mumbai in their present tour. and they already feel the Yuva Bharati Krirangan -- aka Salt Lake Stadium -- in Kolkata looks the best bet to host the grand finale.
"We have suggested some improvements [for the Salt Lake Stadium], amendments that need to be done with the planning but they are small. The work done till now is very good and correct," FIFA's head of events, Jamie Yarza was quoted by the IANS.
"If the construction work goes as per plan, we will be looking forward to confirming Kolkata as the final venue. We will be coming here for another inspection in October. But for now we are satisfied."
At present, even the I-League home games for Mohun Bagan and East Bengal are being hosted at the Barasat Stadium in the outskirts of the city to complete the renovation of the Salt Lake stadium ahead of the mega-event next year.
The second leg of the Kolkata derby between East Bengal and Mohun Bagan in April is also scheduled to be held at the Barasat Stadium. Only the first leg encounter between the sides was played at Salt Lake last month.
"The Kolkata stadium is an historic stadium, which has seen some great matches like the Nehru Cup in the past where we have had Argentina playing. We have also had Argentina play against Venezuela in a friendly match [in 2011] here so it is a historic stadium," Yarza continued.
"We are working together with the state to make it top stadium in India for the future. Looking forward to October now, hoping that this will be the best stadium for the U-17 world Cup."
Tournament director Javier Ceppi also added that Kolkata is likely to get the rights to host the final, even if nothing is finalised yet. "There is a possibility that the final may happen here. But we are not sure yet," said Ceppi.