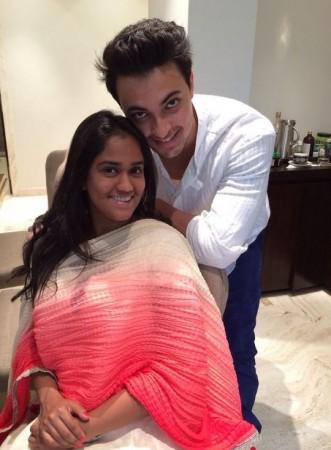 After the super success of Salman Khan's "Kick", the actor has another reason to celebrate. Rumour has it that the superstar's sister Arpita Khan is all set to marry her long-time boyfriend and upcoming actor Aayush Sharma.
If rumors are to be believed, Arpita and Sharma have zeroed on an early next year wedding in Hyderabad, reported Mid-Day.
Arpita's birthday was on 1 August and the entire family had planned for a big bash on Sunday as it would mark the 25-year-old's last birthday before she gets married. Moreover, Arbaaz Khan's birthday falls on 4 August, and hence, it looks like the Khan family had a double celebration at their Panvel farmhouse.
"The entire Khan family will come together at the farmhouse on Sunday. They will celebrate Arpita's birthday, which was on August 1, and bring in Arbaaz's birthday. The Khan-daan has invited close family friends for the bash. Every year, there is a birthday bash at the farmhouse; Sallu's birthday too is celebrated there. This year too, they all plan to live it up at the Panvel farmhouse." the daily quoted a source.
"Only family and close friends have been invited. Also, because it is Arbaazbhai's birthday, it will be just us at the farmhouse," Arpita's brother Sohail Khan explained.
Howver, when asked about Arpita's wedding he said: "That's personal only Arpi will decide when she wants to talk about it. We respect that."
Sharma, who hails from Delhi and aspires to make a career in Bollywood has reportedly been spotted with Arpita on many occasions. Rumors also had it that the couple recently enjoyed a short vacation with their respective families in Shimla.
Lately, Sharma has become a part of the Khan family. In fact, he was also spotted in the family picture of Khans during Eid celebration. With such close association with the Khan family, it appears that the lovebirds are all set to take their relationship to the next level.
Arpita, who is the adopted sister of Salman and siblings Arbaaz, Sohail and Alvira Khan Agnihotri, was earlier romantically linked with several actors including Arjun Kapoor who was her first boyfriend. Their relationship lasted for two years before the duo broke-up. In another report, the "2 States" actor had even mentioned that Arpita was his first and only serious relationship.