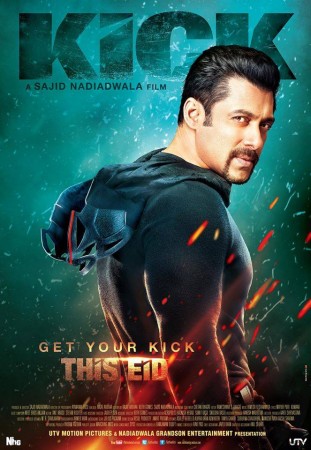 It has now emerged that Salman Khan and Jacqueline Fernandez starrer "Kick" may not hit the theatres this Eid as per schedule. The action movie has reportedly encountered a roadblock from Riteish Deshmukh's new Marathi release "Lai Bhaari".
If sources are to be believed, the makers of "Kick" are now considering to delay the flick, owing to "Lai Bhaari" which is running housefull and occupying most of the theatres of Mumbai. However, the decision has not been confirmed yet.
Nobody expected that "Kick" would land in such a situation and get such tough competition from "Lal Bhaari", in which Khan made a special appearance. The 'Being Human' star himself would have never expected his buddy Deshmukh's Marathi release to hit him so hard and affect his Eid opening collections.
The chief of MNS Film Wing, Ameya Khopkar, who is the co-producer of "Lai Bhaari" - along with Deshmukh's wife Genelia D'Souza, is not willing to remove the film from theatres and make way for Khan's "Kick", reported Times of India.
Khopkar believes that the Marathi flick is doing well and there is no point in bringing it down from single screens now. However, they agreed to compromise to a certain extent, by giving one or two shows to "Kick."
"We will not withdraw from the screens where the film is doing very well. In the theatres where business is okay, we may give them a show or two," Khopkar asserted.
Sajid Nadiadwala, who debuts as director in "Kick", tried to persuade the producers of "Lal Bhaari" but failed to reach an agreement, despite repeated meetings.
"Khopkar is adamant that Lai Bhaari will continue to play on the screens where it is bringing in the money. Sajid did not imagine even in his wildest dream that he'd get such stiff competition from Lai Bhaari for Salman's Eid release," said a source close to the "Kick" unit.
Divide and run is the only option available now, asserted Rahul Aksar, "Kick" distributor.
Though multiplexes will opt for Khan's movie over "Lal Bhaari", single screens are running housefull with "Lal Bhaari" and are unwilling to remove the film.
"I am aware of the standoff but Lai Bhaari drew full houses even yesterday. I plan to accommodate both films in my chain of theatres," said Manoj Desai, owner of Gaiety, Galaxy and Maratha Mandir.