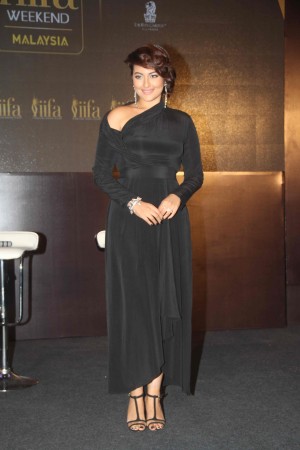 Actress Sonakshi Sinha will turn 28 on Tuesday, 2 June. With her debut film, "Dabangg", the actress has come a long way in her career within a few years.
However, when asked about birthday celebration plans, the actress said she has none. Apparently, the actress is expecting a birthday surprise from her friends.
"Like every year, I have no plans. And whatever I do, happens last minute, because I usually am busy on or around my birthday. This year, too, will be something last-minute unless my friends throw me a surprise party; they are more than welcome too. Actually, they really should! I have had one surprise b'day in my life and I found out just before the party started!" DNA quoted Sonakshi as saying.
Apart from her successful career graph, the "Tevar" actress has been making headlines due to some controversies she has landed herself into.
Salman Khan Made Her Cry
Rumours was abuzz at Arpita Khan's wedding that Salman Khan made Sonakshi cry. But later the actress slammed the news tweeting, "And the award for best fiction goes to vickey lalwani from mumbai mirror. U have to read the rubbish he has written today."
"Guys, pls dont take these miss malini type gossip mongers seriously... All is well with @arbaazskhan and @beingsalmankhan. keep calm :)" tweeted Sonakshi.
Sonakshi's Reply on Mahesh Bhatt's Allegation
Mumbai police registered an FIR against 14 celebrities, including Deepika Padukone and Alia Bhatt, who were involved in the "AIB Knockout" show, after a social activist filed a petition.
However, the list doesn't include Sonakshi, who also attended the show in December last year. This thing irked Alia's father Mahesh Bhatt.
"If being part of 4000 people in the audience and laughing is a crime, then why have the other attendees not been named in the FIR. Sonakshi Sinha, who is the daughter of person ( Shatrughan Sinha, BJP MP) who is part of the present dispensation was also in the audience, why was she not named in the FIR?" Bhatt told CNN IBN.
However, Sonakshi defended herself on Twitter and said that in a couple of FIR's before, Alia's name wasn't mentioned, whereas she was named in it.
Sonakshi's tweets:
"Dear Mr.@MaheshNBhatt, a couple of pointless FIR's have been filed before this (delhi and kol if im not mistaken, in which my name was (1/4)".
"Mentioned and Alia's wasnt. I don't remember my father questioning them as to how or why so. I do agree with u however, if these FIR's (2/4)"
"Are filed on 2-3 members of the audience, why not the other 3,998. Lets not give these ppl the attention they so desperately seek, (3/4)"
"And as far as my memeory serves me, nobody EVER went to jail for laughing. (4/4)"
Later, Mahesh Bhatt responded the actress by calling her answer sane.
Issue with KRK
Kamaal R Khan, known for his blunt remarks, appreciated reality star Kim Kardashian's "butt" on Twitter, but expressed his disappointment over not having spotted any Indian actress with such an attribute.
On this Sonakshi lashed out at him for disrespecting women. "Please RT this if u think @kamaalrkhan is a woman disrespecting waste of space and deserves to be hung upside down and given 4 tight slaps," Sinha tweeted.
However, the "Dabangg" actress has always locked horns with the fashion police and stood up for the right thing.
The actress has also grabbed attention with her rumoured love affairs with Arjun Kapoor, Shahid Kapoor and other co-stars as well. But she knows how to fight back the rumours and controversies going around her.