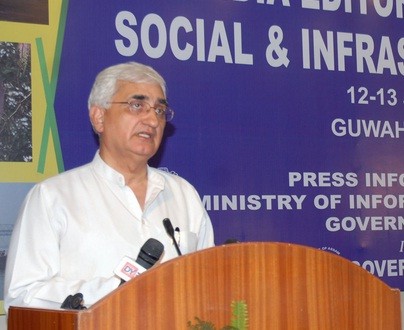 Law Minister Salman Khurshid convened a press meet in New Delhi on Tuesday to clear the air about his so-called anti-Congress remarks, and accused the media of "misinterpreting" his opinions.
Khurshid found himself in the midst of a fresh controversy after 'The Indian Express' reported his remarks over Congress youth leader Rahul Gandhi and the Congress-led government.
In a bid to overthrow the speculations over Khurshid's statements, the Congress heads reportedly suggested the law minister to call for a press meet and clarify his reported remarks.
Speaking about his remarks, Khurshid said that he was confronted with questions related to the country's present situation and that his answers were "wrongly interpreted."
Khurshid also clarified his statement on the Congress being "directionless", saying that the Congress-led UPA government will prove its mettle and exceed the expectations of electors,
On his remarks over Rahul Gandhi's role in the party, Khurshid said that he was trying to emphasise the need for young leaders who should be prepared to meet challenges head-on. He also asked that his comments would be taken in a positive manner, while saying that he wants Rahul Gandhi to lead the party from the front.
Stressed out by the latest controversy, Khurshid said that henceforth such opinions should be restricted to his party forum as its being exploited by media. "My comments are not seen in the right context. We should restrict this to our party forum and would not share with the media."
Earlier, a newspaper daily quoted Khurshid as saying: "The root of the problems plaguing the Congress was the lack of "ideological direction" from its next generation leader Rahul Gandhi. Until now we have only seen cameos of his thought and ideas like democratising elections to the Youth Congress. But he has not weaved all of this into a grand announcement. This is a period of waiting."