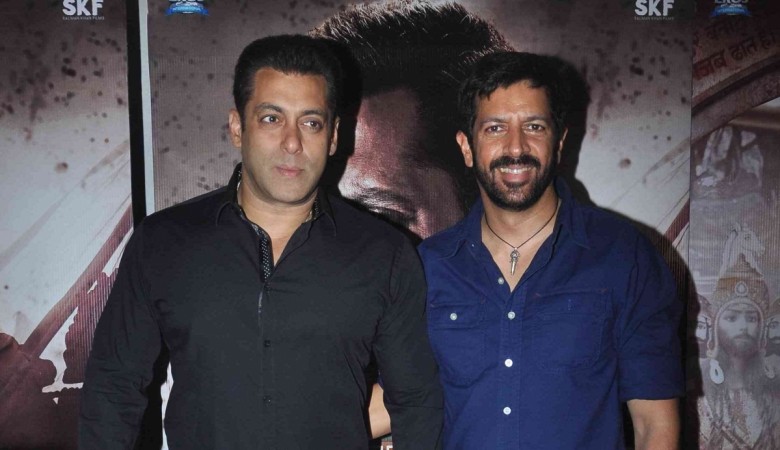 Salman Khan and Kabir Khan are all set to roll their third film together. "Tubelight" will be an emotional story against a political backdrop, said the director.
"In terms of its emotional space it is similar to 'Bajrangi Bhaijaan.' But story is very different. It is more of humour and emotional space that we (Salman and I) haven't delved into," Kabir told the Press Trust of India, adding that at the centre of the film lies a personal issue he cannot talk about just yet. He also said politics excites him as it is the closest to reality.
Scheduled to go on floors on July 15, the film will be shot in Kashmir and Ajmer. The team is also said to be currently on the lookout for an actor who could play Salman's brother on screen. About the leading lady, a few names have been floating but an official announcement is awaited as the developments on that front aren't too concrete yet.
Deepika Padukone is one such actress who was briefly associated with the project, but she went out of the picture after Kabir confirmed that he hadn't approached her at all. Katrina Kaif and Anushka Sharma are some of the other A-listers who are reportedly being considered.
Meanwhile, Salman Khan Films CEO Amar Butala made an interesting revelation a few months ago. He said that the makers have been looking at casting a Chinese actress opposite Salman in "Tubelight."
Making conflicting claims, an insider informed Catch News that the premise of the film is such, that it doesn't require a leading lady. "Salman Khan-Kabir Khan's next film does not call for a heroine. The story revolves around three principal characters: Salman Khan, his brother and a child from China. The basic premise is about the transformation of Salman Khan's character. There is no villain in the film. Like 'Bajrangi Bhaijaan,' the situation plays the villain in this film," the source further elaborated.
"Tubelight" is expected to be released on Eid 2017.