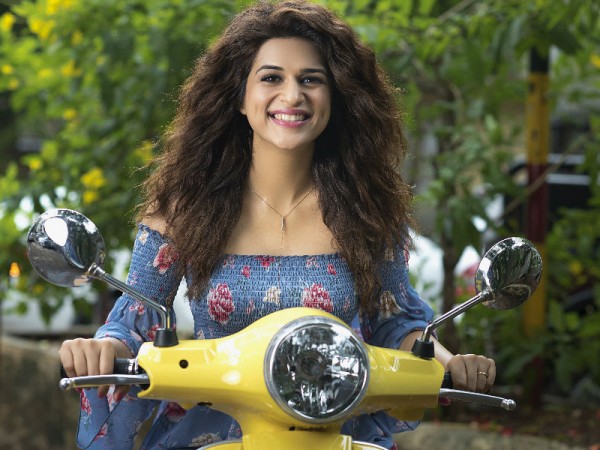 Adult-comedy "Great Grand Masti" (Masti 3) is all set to be released on July 15 and compete with Salman Khan's "Sultan" at the box office. Although "Sultan" has been having a record-breaking commercial run, Shraddha Das feels that the Salman-starrer will not affect the box office collection of "Great Grand Masti."
In an exclusive interview with International Business Times India, Shraddha, who will be seen as Aftab Shivdasani's onscreen wife in "Great Grand Masti," talked about a lot of things, related to the film and otherwise.
The actress talked about her experience working in the sex-comedy, her appearance in the film being inspired by Gauri Khan, chances of Urvashi Rautela overshadowing her in the movie and "Sultan" likely to affect its box office collection. "Great Grand Masti" features Riteish Deshmukh, Vivek Oberoi, Aftab Shivdasani and Urvashi Rautela, among others. Check excerpts from the interview here:
International Business Times: Tell something about your role in "Great Grand Masti".
Shraddha: I play Aftab Shivdasani's wife in the film. It's a contemporary and chic looking character...neither is my role bordering towards raunchy nor is it of saree-clad sati-savitri woman. The look and outline of my character is balanced. Also, my character is supposed to be very innocent since she says certain double meaning lines without even realising that they are double-meaning.
IBTimes: "Great Grand Masti" is your first adult comedy film. How was the experience?
Shraddha: Yes it is my first. I remember this one scene where the whole cast was there and I had to be really serious in it. My director, Inder Kumar sir, suddenly said cut and scolded me for smiling. I argued that I am sure I was serious and I was not smiling until I saw the monitor. This was the effect of certain outrageous and hilarious lines in the film that I wouldn't even realise I had a grin on my face.
IBTimes: How was working with Riteish Deshmukh, Vivek Oberoi, Aftab Shivdasani and Urvashi Rautela?
Shraddha: Vivek Oberoi is my favourite person on the set and I spoke the most to him. He makes everyone around very comfortable. Ritesh Deshmukh has the knack or nature of keeping a very serious face and saying the funniest things. Aftab Shivdasani plays my husband, I think he is super cute right from his Masti days and he makes these really funny faces in some scenes which used to remind me of my favourite cartoon characters as a kid. Urvashi is a very professional girl and has played a gutsy character.
IBTimes: It is said that your look in the film has been inspired by Shah Rukh Khan's wife Gauri Khan. Is it true?
Shraddha: When I met the designers for discussing my look for the film, they told me that my clothes would be very classy, sophisticated and contemporary and as a reference we should see how Gauri khan dressed up in her earlier days since she is such a beautiful, classy woman. Even the jewellery was supposed to be minimal and subtle and I am really happy that I am dressed like that because it's very today.
IBTimes: "Great Grand Masti" has already been leaked online. What do you have to say about it?
Shraddha: Yes that is very unfortunate. But the producers have sprung into action and many sites have been blocked also. The entire industry has been very supportive to facilitate preponing the release. It is a really big franchise film and I hope people extend their support too by watching it only in theatres.
IBTimes: Don't you think it will affect the film's box office collection? Also "Sultan" is running in theatres and is likely to affect "GGM".
Shraddha: I read somewhere that the "Sultan" makers have also extended their support by sharing shows with "GGM". I have just seen "Sultan", it is a completely different genre and has a very different colour compared to "GGM".
IBTimes: Your previous Hindi films failed to make a mark in Bollywood. Do you think "Great Grand Masti" will help your career?
Shraddha: I am very proud of the films and roles I have done in Hindi till now with each character and film being diametrically opposite to the other. "Great Grand Masti" is a hugely popular sequel and is the third part of the Rs. 100 crore hit series of "Masti" and everyone would definitely watch it once. So, I am glad to be a part of this franchise. Having said that, I can only keep working and giving my best to the parts that I play. I cannot predict the result or how and where it will take my career. But after starting off with serious roles in films like "Lahore" which won 4 national awards as my debut, then having a super strong part in a film like "Dil Toh Bachcha Hai Ji" with Ajay Devgn, Emraan Hashmi, Omi Vaidya leading the cast and after that an extremely strong and sensuous role in "Zid", I think it is a refreshing change to play a light, fun role in an out and out commercial film like "GGM".
IBTimes: Makers are promoting Urvashi Rautela more. Do you think she will overshadow you?
Shraddha: I cannot comment on the PR and marketing strategies of the makers. At the end of the day it is very important that people should come to theatres to watch the film and that it should be a hit. When they watch the film, they will anyway know who is doing what in the film. Urvashi's role is extremely different from my role in the film. Maybe if we were right next to each other doing every scene together, the question of overshadowing each other would come. But there is nothing of that sort. Having said all of that, "Masti" or "Great Grand Masti" would have no meaning if there were no wives involved. You cannot make this franchise without the wives.
IBTimes: Tell us about your upcoming projects and your roles.
Shraddha: I just had a huge Indo-Bangladesh film release in Kolkata and Bangladesh called "Badshah the Don" with Bengali superstar Jeet which was an Eid release and became a massive hit. And now there is "GGM" on 15th. Waiting for this one to release first.