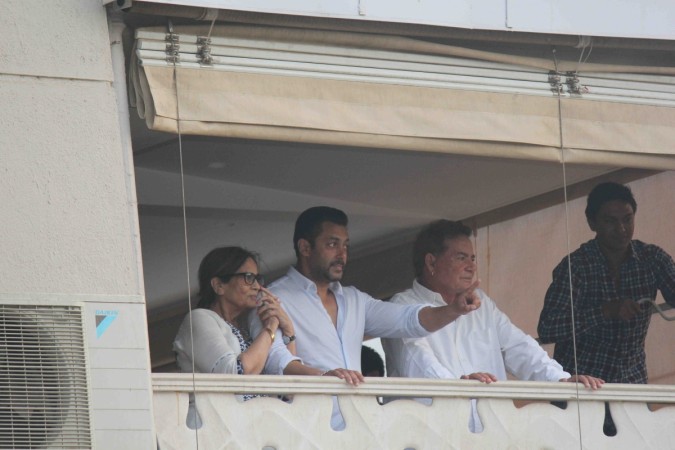 Salman Khan's father Salim Khan has once again taken a jibe at the media and those who have been slamming Pakistani artistes in India. The veteran script-writer took to Twitter and alleged that people who appear on debate shows as panelists are paid to criticise India.
Salman had faced a backlash after he said that Pakistani artistes in India are not terrorists and are granted visa by the Indian government. This comment in regard to banning Pakistani performers in India was followed by strong reactions by public, with many people criticising the actor as being anti-national.
Jumping into the fray, Salim Khan has now said that some retired Pakistani army generals are paid and called on television debate shows to bad-mouth India. His tweet is apparently in connection to the argument that Pakistani actors did not condemn the Uri attack.
"Jawed Sahab called and said Pak artists have gone back. Mogambo khush hua. But Gabbar says Bahut na insafi hai that the person who made this coup possible calls Pak retd. Genrls air marshals on his show Raj Thackrey and Shiv Sena pls note Wonder how much the panelists get paid for being bashed up regularly [sic]," he tweeted.
"If not then they are not genrls and are generous But there is a diff between Pak actors and genrls while the actors were paid & didn't speak against Pak, the genrls were paid to speak angst India And he says the film industry is full of hypocrites [sic]," he continued.
Salman's father also said that his tweets are not in favour of his son or the artistes from the neighbouring country. "Note. This is not in favour of Salman or pak actors, it is for the preacher who does not practice [sic]," he concluded.
Earlier, Salim Khan had posted a series of sarcastic tweets slamming people who criticised Salman and others for supporting Pakistani artistes in India.