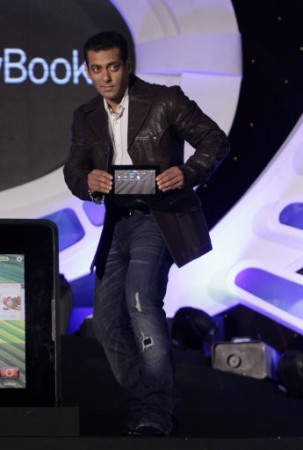 Salman Khan, one of the biggest stars in Bollywood, has a huge fan following and he definitely knows how to create media frenzy.
On Sunday, fans of the actor gathered in Kanpur, Uttar Pardesh, after a rumour stating that Salman is in city for the shooting of his upcoming film "Dabangg 2" spread like wildfire.
Thousands of fans stood outside Bajariya police station in the afternoon to catch a glimpse of their favourite star. Despite there being no shooting, the crowd waited outside the station for more than three hours.
A local politician also had to face the consequence of the rumour. When the politician's SUV passed from the area, it was mobbed by the crowd who thought that it was Salman's car.
The crowd went berserk and circled the car forcing the politician to roll down his window and show them that the actor is not inside the car.
After three hours the crowd was informed that the no shooting will take place at the police station after which the crowd began an attack, forcing police officials to resort to mild lathi charge. The situation was brought under control only when few people were arrested.
"For almost three hours a huge crowd was gathered here. We had been requesting them to go back but no one was ready to listen to us and because of this our cops resorted to a mild lathi charge so that the crowd dispersed," Javed Akhtar, the station officer of Bajariya Police Station, said according to The Times of India.
"But people just didn't believe us and started pelting stones at us and the chowki so, again we had to lathi-charge them. Finally we could control the situation only when we arrested a few people. We have also lodged a case against 1500 unidentified people for blocking the road and stone pelting at the police station," Akhtar said.
Last week, reports said that the film got permission for a five-day shoot from Sept 9 in Lucknow and Kanpur. Due to security reasons, the film crew decided to shoot only in Lucknow, Press Trust of India reported.