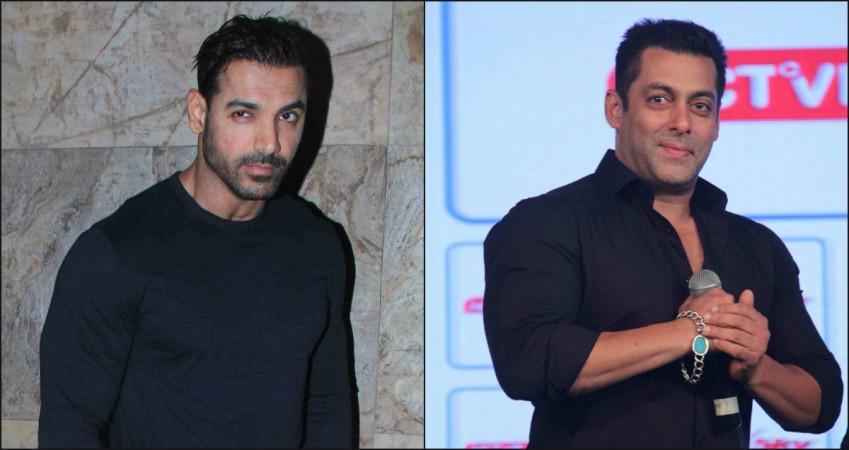 Salman Khan and John Abraham may have finally moved on from their infamous dust-up. After hugging each other at the "ABCD 2" success bash last year, John was recently heard praising Salman's "Bajrangi Bhaijaan."
When asked if his upcoming film "Rocky Handsome" would bear resemblance to Salman's action-rich films, John told BollywoodLife that he could only talk about the superstar's last film, "Bajrangi Bhaijaan," which he thoroughly enjoyed.
"I can only talk about Salman's last film. I watched Bajrangi Bhaijaan....beautiful...there was no action only emotions. Leave aside Salman talk about Welcome Back that had action that was exaggerated. Rocky Handsome's action sequences are not exaggerated. This is a lovely content driven film that people will watch and later come out of the theaters and say that was a good film," he further elaborated.
"Rocky Handsome," which is scheduled for a March 25 release, has been awarded an "A" certificate by the Censor Board of Film Certification (CBFC). The board believes the content is too gory to be given a "UA."
John, talking to the DNA, said he was taken by surprise when it happened. He asserted that the action is more "cool, sexy and urban" than gory, which is why the certification doesn't quite fit. "Action is always synonymous with blood and gore. We made it very palatable for women and for kids," the entertainment portal quoted him as saying.
Loosely based on South Korean film "The Man From Nowhere," the Nishikant Kamat directorial required John to master martial arts. He trained in Tai chi and Aikido for 14 hours every day for a month in Thailand. "We trained hard. I wanted to learn the art forms... I am playing with knives, and it's very difficult," the 43-year told Indo-Asian News Service.