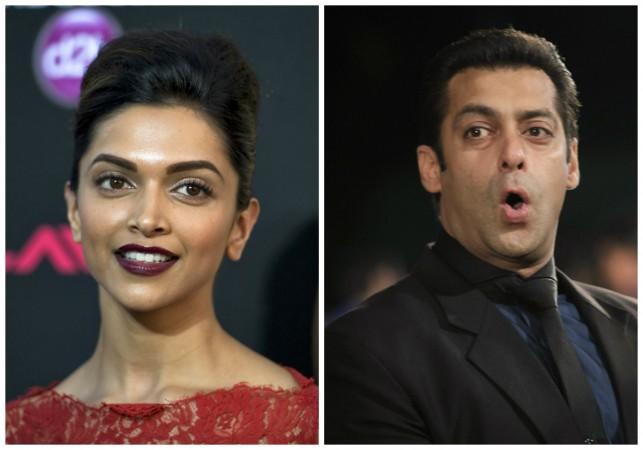 Salman Khan is sure a busy man and has a packed schedule with three films ― "Bajrangi Bhaijaan", "Prem Ratan Dhan Payo" and "Shuddhi" ― lined up for release in 2015-16.
Yash Raj Films' "Sultan" is another film the superstar is keen on starting this September for which he has allotted dates to director Ali Abbas Zafar. Reprotedly slated for an Eid 2016 release, there has been a lot of gossip around the leading lady of the film.
After Katrina Kaif and Anushka Sharma couldn't be part of the project, Deepika Padukone has apparently been roped in to romance the superstar. This is in stark contrast to what was being reported a few months ago. It was then said that the dimpled damsel turned down the film opposite "Dabangg" Khan .
"Salman and Deepika were to co-star in Shuddhi, but she could not do that film. She has already done three films with Shah Rukh Khan and was keen to do a film with Salman," Bollywood Life quoted a source as saying.
In other news, Salman Khan apparently loved the script when it was partially ready. And now after the final narration, he has given a go-ahead to the project.
"A few days back when the final narration happened, Salman was mighty impressed and informed Ali that he loved the script and intends to start the film this year itself. In fact, Salman said that he would be giving Ali his dates from this September," Deccan Chronicle quoted an insider as saying.
However, these are mere speculations as no official announcement has been made by the concerned parties.
In other news, a few months ago, it was widely reported that DP has repeatedly turned down offers to work with the "Kick" star as she is quite close to Shah Rukh Khan. However, the "Happy New Year" actress rubbished rumours saying she would love to work with him.
"Who am I to refuse anyone? I don't have the power or the position to do so. I have never said I don't want to work with Salman Khan. In fact, I want to work with him. But I think each film is as per destiny. If it is meant to happen, it will happen no matter how hard you work on your dates. It will happen only if it has to," she told IANS.