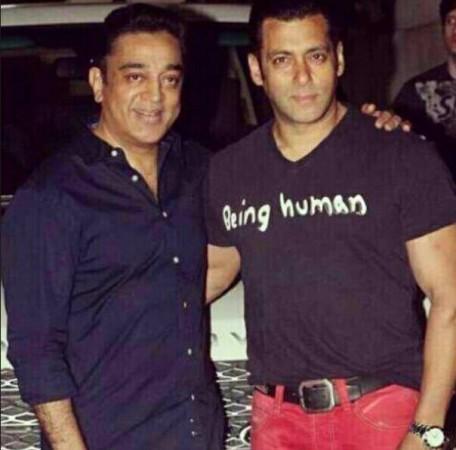 The controversy surrounding "Vishwaroopam" has not ended yet, but the director-producer-actor Kamal Haasan is overwhelmed by the response and support he has received from the film fraternity.
Bollywood actor Salman Khan, who earlier tweeted in support of Kamal Haasan, organised a special screening of the spy thriller film at the Ketnav studio in Bandra, Mumbai, on Friday.
The screening of the film started at around 3 pm with Bollywood hot favourite Salman, his father Salim Khan and Rekha in attendance.
Kamal was overwhelmed and surprised at Salman's gesture, who not only urged his fans to watch the film but also arranged the special screening of the film.
"I have known Salman for a while. Rani Mukherjee had introduced us many years ago. We haven't been phone buddies and that is why I was overwhelmed by his support on twitter," Kamal told Mumbai Mirror.
"I learnt he was keen to watch the film. But before I could make arrangements, he had already organised it with help from the distributors (Balaji). He was too fast for me!" added Kamal.
Meanwhile, evergreen beauty Rekha also supported Kamal for the film. Rekha along with Kamal reached the studio to watch the film.
Apparently, Salman did not find any objectionable content in the film.
"Salman loved the film and said there was nothing controversial about it. In fact, "Vishwaroopam" reminded him of Hollywood films," he said.